Simple lunches for school-age kids
With the recent surge in Food TV shows, moms everywhere have been trying to reinvent the classic brown bag lunch with complicated components that can slow down a perfectly timed morning routine. We invite you to try our take on these simple and quick brown bag classics.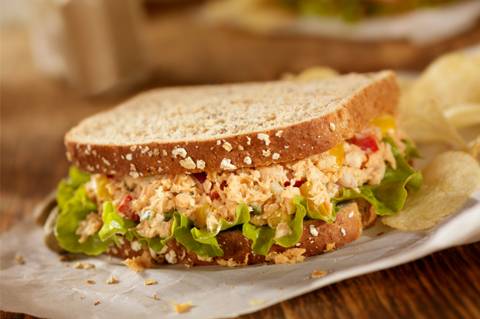 When the standard peanut butter and jelly gets a thumbs down, there's no need to completely reinvent the lunch time wheel -- just adjust a spoke or two with these easy spins:
Tuna on whole wheat makeover
Instead of mayonnaise, which can spoil if not kept cold, try Italian-style tuna with herbed olive oil. Mix one can of oil-packed tuna (which typically contains no additives or sodium like brands packed in water) with crushed garlic, fresh parsley and basil or oregano. Place on whole wheat bread with Provolone cheese and dark leafy greens. If you've got food allergies in the family, wrap the tuna in lettuce leaves or blanched collard greens.
Peanut butter and jelly makeover
Combine organic peanut butter, sunflower seed butter or cashew nut butter with honey, a pinch of salt and raisins. Slather on unpeeled, thinly-sliced Granny Smith apples (which don't oxidize and turn brown like other apples) for a fun and nutritious alternative to the classic PB&J.
Turkey sandwich makeover
The thought of a double or triple-decker sandwich is enough to get any kid excited about lunch, and win them major cool points with classmates. Instead of the flat turkey and cheese, build a three-story masterpiece, layering homemade honey-mustard between cold cuts and bread. Instead of lettuce, sneak thinly sliced pears or apples in there for crunch. Layer your sandwich like this: bread, mustard, turkey, apple, bread, cheese, apple, mustard, bread.
Or try this spin on a hero sandwich that can be made the night before:
Pressed hero sandwich
Serves 8
Ingredients:
1 loaf Italian bread
5 plum tomatoes, seeded and chopped
3 tablespoons extra virgin olive oil
2 tablespoons balsamic vinegar
1 clove garlic, crushed
1/2 teaspoon salt
1/4 teaspoon freshly cracked black pepper
10 large fresh basil leaves (or enough to cover the bottom of the bread)
10 slices Genoa salami
10 slices Prosciutto
10 slices Capicola (Coppa)
10 slices Mortadella
2 pounds fresh buffalo mozzarella, sliced to 1/8-inch thick
Directions:
Slice the loaf of Italian bread lengthwise, like a hamburger bun. Make a shallow well in the top half by removing some of the bread across the entire length of the top half. Set aside uncovered.
In a small bowl, add the seeded tomatoes, olive oil, balsamic vinegar, garlic, salt and pepper. Mix well to combine and set aside for 10 minutes. After 10 minutes, remove the tomatoes from the oil mixture and set aside.
Using a basting brush, brush the inside of the top and bottom halves of the bread with the olive oil mixture. Spoon an even layer of the tomatoes in the well of the top crust. Set aside.
Place an even layer of the basil leaves across the bottom crust. Layer the meats and cheese in any order of preference. Carefully flip the bottom crust onto the top crust and wrap in parchment.
Place the sandwich on a baking sheet and add light weights across the entire sandwich (bricks wrapped in foil or parchment, or a cast iron skillet work well). Place in the refrigerator for at least 2 hours or overnight. Remove from the fridge and remove parchment paper. Slice across into 12 equal finger sandwiches and wrap individually.
More great kid-friendly lunch ideas
Cheap healthy lunch recipes
Organic lunch ideas for kids
Creating cool school lunches