Sophisticated lunch ideas
While the kids are away at summer camp, moms everywhere are taking the time to celebrate another successful year of mom multitasking, with good food, best mom friends and yes, a festive cocktail.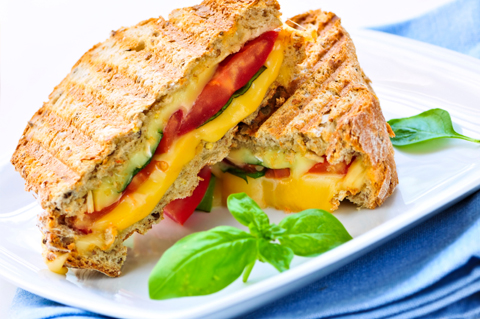 Good food, worthy of an end-of-school year celebration for a job well done, doesn't have to be complicated to be sophisticated and special. Our SheKnows test kitchen moms share their favorite girls-only lunch ideas:
Upscale grilled cheese
Herbed goat cheese on grilled flatbread with peppery arugula is quick to make and tastes great at room temperature. Mix minced fresh herbs with cracked black pepper, then roll the goat cheese in the herb mixture. Slather over grilled flatbread, drizzle with local honey and fresh arugula that has been lightly dressed with olive oil and balsamic vinegar. Slice and serve warm or at room temperature.
Sweet and sour shrimp ceviche with tequila
Slice peeled and deveined shrimp in half, lengthwise. In a pot of salted boiling water, blanch shrimp for 30 seconds. Transfer shrimp to an ice bath. Set aside. Create a sweet and sour Bloody Mary citrus dressing with 3 cups of tomato juice and a splash of tequila, celery salt, fresh lemon juice, fresh lime juice, fresh chopped cilantro, fresh horseradish, honey and crushed red pepper flakes to taste. Toss together shrimp and dressing, refrigerate at least 1 hour and serve over a bed of shredded organic greens and garnish with fresh mango.
Sangria
Keep at least one bottle of white wine in the refrigerator at all times. This can be mixed with berries, peaches and other in-season fruits for a quick and refreshing sangria. Or, for non-alcoholic drinks, soda pop. Simple syrups can be made in minutes and infused with fun flavors like ginger, mint, basil and lemon. In a small saucepan heat 1 cup of sugar with 1 cup of water over medium-low heat until the sugar dissolves completely. Add grated fresh ginger or other fruit or herbs. Remove from heat and let stand for 10 minutes. Add 2 to 3 ice cubes to cool mixture slightly. Combine infused simple syrup, sparkling water and fruit juice to create your own unique soda flavors.
More great lunch ideas
Hottest lunch trends
Creative sandwich recipes
Office lunch clubs