Pizza-flavored snack ideas
We confess! -- We live for pizza at the Chef Mom test kitchen. When we're not eating it, we're dreaming about it. And since our pizza testing days don't happen as often as we'd like (we would prefer every day), we developed a pizza flavor emergency plan to infuse that spicy, cheesy, tomato-rich flavor we crave into just about every savory snack.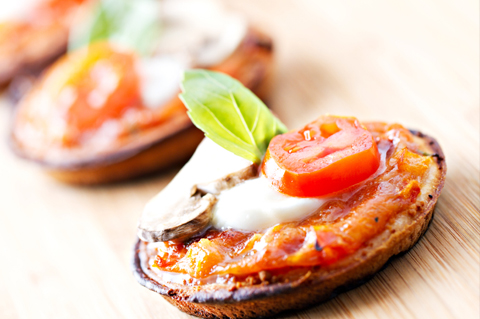 Pizza is made from the most basic ingredients, that when combined, create a culinary masterpiece (according to a recent test kitchen poll conducted while eating pizza). The flavor profile can be easily recreated with kitchen staples you may already have on hand: dried oregano, tomato paste, sun dried tomatoes, olive oil, salt, pepper, Romano cheese, crushed red pepper flakes and garlic (granulated or fresh). Depending on your preference, you can add fresh or dried bell pepper, fresh or dried sweet onion and minced pepperoni.
Add pizza flavor
Depending on the snack food you want to infuse, you'll want to create a paste, liquid or powder. For example, if you want to flavor something like popcorn that doesn't take kindly to liquid, create a dry mix of oregano, cheese, salt, pepper and granulated garlic with a handful of minced sun dried tomatoes. Toss (just-popped) popcorn with the pizza spice mixture while it is still piping hot, to ensure the flavors stick to each puff.
To infuse something like corn chips or pita bread that can stand a small amount of moisture, mix tomato paste and olive oil with the herbs and spices listed above and brush onto the chips. Bake or broil the chips until just hot and crisp but not browned and enjoy. Vegetables and chicken breast can also be tossed with the same mixture used for the chips and bread and broiled for a lighter, calorie-conscious snack.
Pizza dip recipe
This is the ultimate pizza-flavored dip. Serve with vegetables, chips or slather over Italian bread and broil for the perfect appetizer.
Ingredients:
1 block of cream cheese
1 teaspoon of dried oregano
1 teaspoon dried basil
1 teaspoon garlic
1 teaspoon dried onion powder
1 cup mozzarella cheese
1/4 cup tomato sauce
1 cup diced pepperoni
Directions:
Preheat oven to 350 degrees.
Add all ingredients to a mixing bowl and combine. Spread in an oven safe dish and bake for 20 minutes or until it is soft and bubbly.
Spread over pieces of bread or uses pieces of bread or veggies to dip.
More great pizza ideas
Crab pizza snack recipe
Pizza tortilla roll-ups recipe
English muffin pizza recipe