Portable comfort food recipes
Though sitting on your couch, cozied up in a blanket, spooning your favorite comfort food into your mouth, may be our preferred method of eating soul food, life oftentimes gets in the way of our hungry emotional needs. That's when we turn to these soul-soothing, crave-satisfying comfort food recipes that can be taken on the road.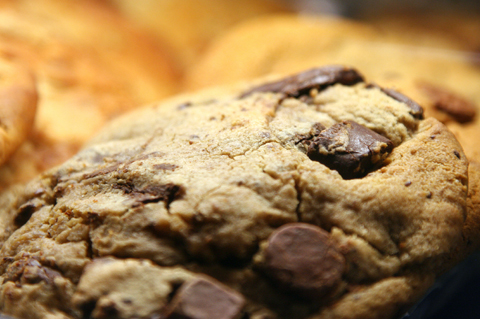 Giant dark chocolate chip cookies
Yields 2 dozen
Homemade chocolate chip cookies deliver that reminiscent comfort you used to savor when your mom would hand you a warm cookie and cold glass of milk as you walked in the door from school. As an adult, a standard-sized cookie simply isn't going to cut it, so we're giving you this giant dark chocolate chip cookie recipe that will take more than a couple bites to finish. If you're traveling in the heat, pack these cookies in an insulated lunch bag with a cold pack to keep the chocolate from melting onto your hands. Be sure to fill a thermos or refillable drink container with icy cold milk.
Ingredients:
1 cup (2 sticks) butter, softened at room temperature
1 cup firmly packed brown sugar
1/2 cup granulated sugar
2 eggs
1 tablespoon pure vanilla extract
2-2/3 cups all-purpose flour
1-1/4 teaspoons baking soda
1 teaspoon salt
1/2 teaspoon ground cinnamon
12 ounces dark chocolate chips or chopped dark chocolate
2 cups chopped, toasted walnuts
Directions:
In the bowl of a standup mixer fitted with the paddle attachment, cream the butter, brown sugar and granulated sugar until light and fluffy.
Beat in the eggs and vanilla until well-incorporated.
In a medium bowl, whisk together flour, baking soda, salt and cinnamon. Add to the butter mixture and blend on low for 1 minute, then increase the speed to medium and mix well.
Add chocolate and walnuts and stir to combine.
Drop 1/4-cup portions of dough onto baking sheets leaving 3 inches of space in between. Lightly press down but make sure there are no large cracks along the edges.
Bake for 10 minutes or until the cookies are golden. Cool on the baking sheets for 5 minutes, then transfer to wire racks to cool completely.
Pack cookies in an airtight container separating layers with sheets of parchment paper.
Fettuccini with ricotta, peas and prosciutto
Serves 4
When you've got an unshakable craving for carbs, package this filling fettucini in a portable lunch container and grab a fork. (As tempting as it may be, don't eat pasta while driving.) This recipe serves four so you can keep extra servings in the fridge or share with your travel mates.
Ingredients:
10 ounces fettuccini
1 cup ricotta
1/2 cup shaved Parmesan cheese
2 tablespoons butter, cut into small pieces
Salt and freshly ground black pepper
1 tablespoon extra virgin olive oil
4 ounces prosciutto, cut into strips
1 onion, finely chopped
2 garlic cloves, minced
2 cups frozen peas, thawed
1 tablespoon finely grated lemon zest
3 tablespoons finely chopped fresh parsley
Directions:
Cook pasta in a large pot of salted boiling water according to the package directions for al dente. Drain in a colander.
Meanwhile, in a medium bowl, stir together ricotta, Parmesan and butter. Season with salt and pepper. Set aside.
Heat oil in a medium skillet over medium heat. Add prosciutto and cook, stirring often, until it is browned and crisp. Use a slotted spoon to transfer to a paper towel to drain.
Add onion to the skillet and cook, stirring often, until golden. Stir in the garlic.
Using the large pot in which you cooked the pasta, combine pasta, ricotta mixture, onions, peas, lemon zest and parsley. Season with salt and pepper.
Divide pasta among individual containers.
Mexican egg burritos
Serves 4
Pile this onto a plate and you have the classic Mexican dish called Migas, which is a spicy comfort food that you can eat for breakfast, lunch or dinner. Wrap the mixture into a tortilla and you've got a yummy grab-and-go comfort food meal.
Ingredients:
1 onion, diced, divided
3 garlic cloves, minced, divided
1 large jalapeno, seeded, minced, divided
3 tablespoons finely chopped fresh cilantro
2 teaspoons lime zest
Juice 1 lime
Salt and freshly ground black pepper to taste
1 pound vine-ripe tomatoes, cored, seeded, chopped
2 tablespoons olive oil
1 red bell pepper, seeded, diced
6 eggs, lightly beaten in a bowl
1 cup tortilla chips, coarsely crushed
1/2 cup shredded pepper Jack cheese
4 large flour tortillas
Directions:
In a food processor or blender, combine 1/4 cup of onion, 1 teaspoon of garlic, 1 tablespoon of jalapeno, all of the cilantro, lime zest and lime juice. Pulse until ingredients are finely minced. Season with salt and pepper. Add tomatoes and pulse a few times to combine. Pour mixture into a sieve and allow excess liquid to drain.
Heat oil in a large skillet over medium heat. Add bell pepper and remaining onion, garlic and jalapeno. Cook, stirring often, until ingredients are tender.
Add eggs to the skillet and season with salt and pepper. Use a spatula to push eggs through the vegetables a few times.
Add tortilla chips and continue to push through egg mixture a few times. Add cheese and push through the ingredients until eggs have cooked.
Divide egg mixture among the tortillas and top with salsa. Fold the ends of the tortillas over the filling and roll burrito-style.
Wrap burritos in foil and set in a sturdy container to keep them from being crushed in route.
More portable food ideas
5 Easy on-the-go breakfasts
Grab-and-go lunch recipes for busy moms
Picky eaters: Snacking on the go