Put together a grocery list on a budget
There are ways to help stretch your dollars (and cents) when you head to the grocery store. It only takes a few simple steps and a little practice to put together a grocery list on a budget!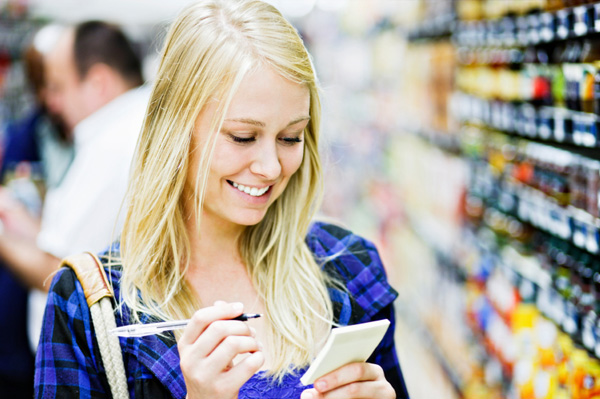 First things first
One of the most important things you can do when you're shopping on a budget is to create a grocery list. It helps you stick to a plan and avoid things you don't really need. Take it one step further and try to plan out your meals for the week ahead, then make your list. It might sound like a chore but it will be worth it in the end.
Things to think about
Convenience foods
While they may make life a bit easier, you're paying for the convenience of having someone else wash and shred your lettuce. Instead, buy individual heads of lettuce and cabbages, and large bags of celery or carrots that you peel and cut yourself.
Bulk items
It might seem like you're getting a deal when you buy in bulk, but not always. Be sure you do some calculating before you decide what you should buy in larger quantities. Also, consider what your family actually eats. If you buy an item in bulk just because it's cheaper, but your family won't eat it, it's not worth it.
Don't shop when you're hungry
It sounds crazy, but think about it... If you head to the grocery store when you're hungry, just about everything and anything will look good to you -- and may somehow end up in your cart! Go shopping after breakfast or after having a snack.
Read the ads
Scan the newspaper for sales on staple items that can easily be stored. Think beans, pasta, pasta sauce, rice and things you can freeze like chicken or other meats. Don't forget to check the mail, too. Often local stores will send coupons in the mail.
Go for generic
Unless there is something you absolutely must have in a brand version, don't forget to look for the store's brand or a generic option instead. These are available for just about all products from frozen vegetables to flour to cereal -- and cost less than brand versions.
Avoid a sale
That sounds strange but think of it this way... Don't buy something just because it's on sale. If your family won't eat it, it won't be worth the great price.
Items to add to your budget-friendly grocery list
Vegetables
Fresh vegetables in season
Frozen vegetables
Potatoes
Tomato sauce
Dairy
Low-fat yogurt and cheese
Low-fat milk
Fruit
Fresh fruit in season
Raisins
Canned fruit in light syrup
Grains and cereals
Whole-grain cereals
Pasta
Brown rice
Flour
Proteins
Peanut butter
Canned tuna
Dried peas, beans and lentils
Ground beef (or turkey) and chicken to use now or to freeze
With a budget-friendly list in hand, you'll be ready to make nutritious and inexpensive meals the family will enjoy!
Tasty lunches to try
Healthy egg-salad sandwiches
Easy, ethnic lunches for kids
Kid-friendly pasta recipes for lunch