Red velvet birthday berry cake
This is a perfect addition to your 4th of July party, as a birthday cake for America!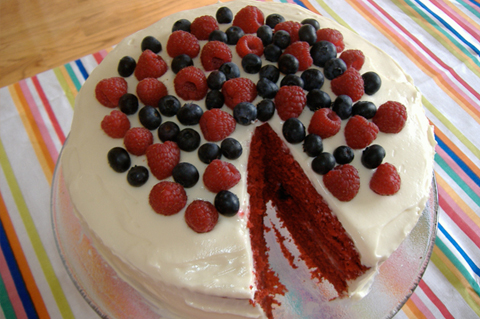 Red velvet berry cake
Red velvet cake is a Southern favorite and a tradition. Remember, red velvet cake is not a chocolate cake, so don't be tempted to go overboard on the cocoa!
For the cake:
Dry ingredients:
2-1/2 cups sifted cake flour
1 tablespoon plus 1 teaspoon cocoa
1/2 teaspoon salt
1 teaspoon baking soda
1 teaspoon baking powder
Wet ingredients:
1 cup buttermilk
1 bottle (1 ounce) red food coloring
1 teaspoon distilled white vinegar
1 teaspoon vanilla
1-1/2 sticks butter, softened at room temperature
1-1/2 cups sugar
2 large eggs, at room temperature
1/2 cup sour cream
Directions:
Preheat oven to 350 degrees F.
Generously grease two (9-inch) cake pans.
Press parchment paper into the bottom of the pans. Grease the parchment paper and sides of the pan very well.
Sift the cake flour. Then sift again with the cocoa, salt, baking powder and baking soda into a medium-sized bowl and set aside.
Use a medium sized glass measuring cup with a pour spout.
Whisk together buttermilk, red food coloring, vinegar and vanilla. Set aside.
In a large, third bowl, using a hand mixer, beat sugar and butter until well blended.
Add eggs one at a time, mixing well, then add sour cream.
Slowly add the dry and wet ingredients alternately, starting and ending with the dry. (Pour a little of the flour mixture in, beat, then add the buttermilk mixture and beat well. Repeat, making certain that your last addition is the flour mixture.)
Evenly divide batter into the two prepared pans and bake 26 to 28 minutes.
Cool for 10 minutes in pan, then remove from pan and cool completely before icing.
Cream cheese frosting
Ingredients:
2 (8 ounce) packages cream cheese, softened at room temperature
1 stick of butter, softened at room temperature
2 cups powdered sugar
1 overflowing teaspoon vanilla
Strawberries, blueberries, raspberries (and blackberries if you would like) for the filling and topping.
Directions:
Beat the cream cheese and butter until smooth.
Add the vanilla, then slowly add the powdered sugar, beating until smooth and lump free.
Place first layer of cake flat side up on your cake stand/plate and frost.
Add thinly-sliced strawberries, raspberries and blueberries, to cover the entire first layer. This does not have to be done in a decorative fashion. Just cover the layer so that each bite will have fruit. (You can omit the berries completely if you do not want to add them.)
Next, add the second cake layer, flat side down, covering the entire cake with frosting. Start at the top, then work your way down and around the sides, using a large spreader.
Add the berries to the top (decoratively) and refrigerate for at least 4 hours.
*This is a time consuming cake to make, but each step is important to ensure a delicious outcome!
More red velvet cake recipes to try
Red velvet cupcakes with cream cheese frosting
Red velvet cupcakes
Red velvet chocolate cupcakes
---
More From SheKnows Explorer
---
---