Soccer game grub: Lunch on the field or on-the-go
When the kids have a soccer game, pack these healthy, quick-to-fix lunch recipes -- so you can avoid the drive-thru.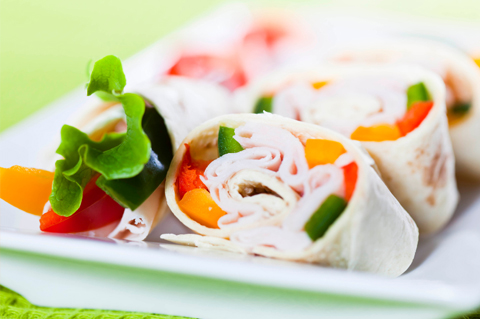 Veggie-licious turkey wraps
Serves 4
Wraps are the ultimate grab-and-go lunch with many yummy variations. This turkey wrap recipe features a crunchy colorful combination of veggies and whipped cream cheese but you can swap in any deli meat and veggies or leafy greens you have on hand.
Ingredients:
4 ounces whipped cream cheese
1 teaspoon grated lemon zest
1 tablespoon finely chopped fresh parsley
4 whole wheat flour tortillas
8 thin slices turkey breast (we love No Salt Added Oven Roasted Turkey Breast)
1 cup shredded carrots
1 red bell pepper, seeded, cut into matchsticks or long skinny strips
Directions:
In a small bowl, stir together cream cheese, lemon zest and parsley.
Spread cream cheese on tortillas. Top with turkey breast slices, shredded carrots and bell pepper.
Fold the bottom and top ends of the tortillas over the filling and roll them burrito-style.
Roll wraps up in plastic wrap and keep refrigerated or in a cold ice chest until ready to serve.
Smoked salmon mango pita pockets
Serves 4
Smoked salmon is often more palatable than regular fish for kids with picky palates. Adding sweet juicy chunks of mango makes this pita pocket lunch even more appealing.
Ingredients:
8 ounces smoked salmon
1 large mango, pitted, peeled, diced
1 large stalk celery, diced
2 green onions, sliced (green and white parts)
1/2 to 2/3 cup lite mayonnaise made with olive oil
Salt and freshly ground black pepper
4 whole wheat pitas, each cut in half
2 cups sprouts
Directions:
In a large bowl, combine salmon, mango, celery, green onions and mayonnaise. Season with salt and pepper.
Stuff pita halves with salmon mixture and top with sprouts.
Wrap each pita with plastic wrap and keep in the refrigerator or ice chest until ready to serve.
Brown rice crispy treats
Brown rice cereal, dried fruit and almonds give these rice crispy treats a tasty boost of nutrition.
Ingredients:
3 tablespoons butter
1 (10 ounce) bag marshmallows
6 cups brown rice cereal (try EnviroKidz Organic Koala Crisp)
1 cup dried cherries or blueberries
1 cup slivered almonds
Directions:
Spray a 13 x 9-inch baking pan with cooking spray.
Melt butter in a large pot over medium heat. Quickly stir in the marshmallows and cook until completely melted. Remove from heat.
Stir in cereal, dried fruit and almonds until well-combined.
Spray a rubber spatula with cooking spray and press mixture evenly into pan.
Cool and cut into 2-inch squares or use cookie cutters to cut into playful shapes.
Store in an airtight container in a cool place until ready to serve.
More quick and easy kid-friendly recipes
Baked taquitos recipe
Bite-size food recipes
Easy picnic recipes the kids can make