Perfect playdate: Lunch for the kids and the gang
When you have a gang of hungry kids to feed, go beyond sandwiches or heat-and-eat convenience food. All three of these kid-friendly recipes can be made a day ahead so you don't have to scramble to get lunch together for your kiddos and their friends.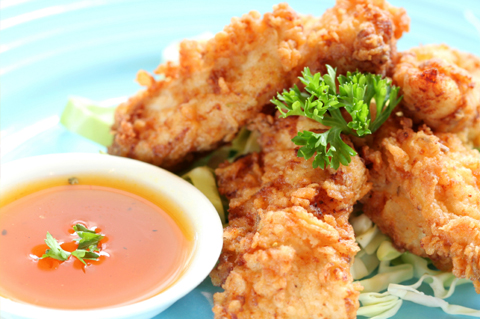 Coconut chicken fingers
Serves 10
What kid doesn't love chicken fingers? These crispy-coated baked chicken strips will please the kiddos, as well as your desire to feed them something besides drive-thru fare. Serve chicken fingers with ketchup, honey mustard dressing or barbecue sauce.
Ingredients:
2-1/2 pounds boneless, skinless chicken breasts
1-1/2 cups all-purpose flour
1-1/2 cups whole wheat bread crumbs
1-1/2 cups shredded coconut
1 teaspoon salt
Freshly ground black pepper to taste
1 teaspoon dried oregano
4 eggs
Directions:
Preheat oven to 350 degrees F and spray two large rimmed baking sheets with cooking spray.
With the smooth side of a mallet, pound chicken breast halves to an even 1/2-inch thickness. Cut them lengthwise into 1-1/2-inch strips.
In a wide shallow dish, whisk together flour, bread crumbs, shredded coconut, salt, pepper and oregano.
In a second shallow dish, lightly beat the eggs.
Dip chicken strips in the eggs, allowing excess egg to drip off, then dredge in the flour mixture until coated on all sides.
Place chicken strips on the prepared baking sheets.
Bake for 25 to 30 minutes, rotating sheets after 12 minutes, until coating is lightly browned and chicken is cooked through. Serve hot.
Broccoli trees and orange salad
Serves 8 to 10
Playdates don't have to be all junk food and sugary box drinks. Most kids love broccoli trees and juicy orange segments, so combine them in a colorful, healthy salad that helps them meet their fruit and veggie quota for the day.
Ingredients:
2 large crowns of broccoli, cut into bite-sized florets, lightly steamed, cooled
2 oranges
1/2 cup dried currants
3 tablespoons extra-virgin olive oil
Salt and freshly ground black pepper to taste
Directions:
Place broccoli in a large bowl.
Cut the top and bottom ends from the oranges, removing only the peel and pith but not cutting through the flesh.
Stand oranges up on a cutting board, cut-side down so they don't roll. Starting with one orange, use a knife to cut lengthwise in between peel/pith and orange flesh to remove peel in strips and leaving only the flesh.
Holding the orange over the bowl with the broccoli, use the knife to cut in between the membranes and allow the orange segments to fall into the bowl along with any juice. Repeat with the second orange. (Discard the membranes.)
Add currants and olive oil to the broccoli mixture and toss to coat. Season with salt and pepper and toss again.
Transfer salad to an airtight container and refrigerate until ready to serve or pack for the park.
S'mores bars
Yields 12
No need to take the kids camping to enjoy this graham cracker, chocolate and marshmallow combination. A tasty and mess-free rendition of the traditional s'mores made near a campfire, these dessert bars are a fun grab-and-play treat.
Ingredients:
1 cup finely crushed graham crackers
1/2 cup all-purpose flour
1 stick butter, melted
12 ounces semi-sweet chocolate chips
1/3 cup heavy cream
2 cups mini marshmallows
Directions:
Preheat oven to 375 degrees F.
Line an 8-inch square baking dish with foil, leaving a 2-inch overhang (this will help you lift the baked bars from the dish).
In a medium bowl, whisk together graham cracker crumbs and flour. Add butter and stir well to combine.
Pour cracker mixture into prepared baking dish and use your fingers to press mixture into an even layer.
Bake for 15 minutes or until lightly browned. Set aside on a wire rack to cool.
Place chocolate chips in the top of a double boiler set over simmering water. Cook, stirring, until melted.
Stir in cream until incorporated and no more white streaks show.
Pour melted chocolate over graham cracker crust, spreading chocolate into an even layer with the back of a spoon or offset spatula.
Sprinkle marshmallows over the chocolate. Set under the broiler for 2 minutes or until marshmallows are toasted.
Set dish on a wire rack to cool slightly. Place in the refrigerator or freezer until bars are firm.
Lift bars out of the baking dish using the foil handles and transfer to a cutting board.
Cut into bars and store in a single layer in an airtight container.
More kid-friendly lunch recipes
Healthy picnic lunch recipes
Kid-friendly pasta recipes for lunch
Gluten-free double chocolate chip cookie recipe