Lazy Sunday: Family meals when time is on your side
After a hectic week of grab-and-go meals, let Sunday be a lazy day to relax and indulge in an afternoon of delicious leisure time in the kitchen. These lazy day recipes are perfect for a late lunch, giving you the morning to sleep in and linger over an easy brunch with the family.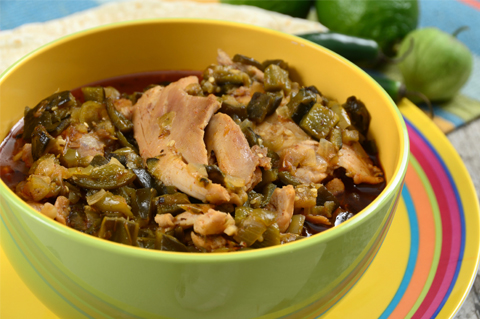 Slow-cooking chile verde
Serves 8
If you're in the mood for Mexican food, spend your afternoon prepping this belly-warming pork stew.
Ingredients:
1-1/2 pounds tomatillos, husks removed, each tomatillo cut in half
6 garlic cloves, unpeeled
2 jalapenos, halved, seeds and white membranes removed
2 poblano chilies, stems trimmed
1 bunch fresh cilantro, chopped
1/4 cup olive oil
3 pounds pork shoulder (also called pork butt), trimmed of excess fat and cut into 1- to 2-inch cubes
Salt and freshly ground black pepper
2 onions, chopped
2 tablespoons chopped fresh oregano
2-1/2 cups chicken broth
Warm flour or corn tortillas
Directions:
Place tomatillos cut-side down on one side of a rimmed baking sheet. Place garlic, jalapenos and poblanos on the other side of the baking sheet. All ingredients should be in one layer. (Use two baking sheets if necessary.)
Broil for 5 to 6 minutes to lightly char the skin of the tomatillos and chilies. Remove baking sheet from the oven.
Place poblanos in a paper bag and seal bag to steam the skin loose. Set aside for 5 minutes or until you can peel the skin from the peppers.
Squeeze garlic cloves from their skins into a blender. Add tomatillos, jalapenos, poblanos and cilantro. Pulse until the ingredients are finely chopped. Set aside.
In a large stockpot, heat oil over medium-high heat. Season the pork cubes generously with salt and pepper.
Add pork and cook, stirring often, until chunks of pork are browned on all sides. You can do this in two batches, transferring browned pork to a plate using a slotted spoon.
When pork is browned (and transferred out of the pot), add onions and cook, stirring often, until softened and transparent.
Add pork and tomatillo mixture to the pot, stirring to combine. Stir in chicken broth and oregano. Generously season with salt and pepper.
Bring to a boil and reduce heat to medium-low. Simmer for 2 hours or until pork is fork-tender.
Serve hot with warm tortillas.
Family-friendly chicken and wild rice bake
Serves 8
This is one of my favorite Sunday recipes featured in my cookbook Make-Ahead Meals Made Healthy. I often triple batch it so my family can enjoy a scrumptious meal the day I make it and freeze the extra for a Sunday dinner when time isn't on my side. You can use leftover cooked chicken, a rotisserie chicken, or sauté boneless, skinless chicken breasts in olive oil until cooked through.
Ingredients:
2 cups wild rice
4 cups low-sodium chicken broth
2 cups water
1 cup dried cherries
3 tablespoons finely chopped fresh parsley
Zest and juice 1 small lemon
Salt and freshly ground black pepper to taste
3 cups chopped cooked skinless chicken breast
1-1/2 cups sliced green onions (green and white parts)
1 tablespoon finely chopped fresh tarragon
2 (10 ounce) cans low-fat and reduced-sodium cream of chicken soup
1 cup light sour cream
Directions:
In a large pot over high heat, bring rice, broth and water to a boil.
Reduce heat to low, cover pot, and cook rice for 45 to 50 minutes or until rice is tender. (Drain excess water, if necessary.)
Preheat oven to 350 degrees F and generously spray a 13 x 9-inch baking dish with cooking spray.
Stir remaining ingredients into cooked wild rice and transfer to the prepared baking dish.
Bake uncovered for 20 minutes or until mixture is hot. Serve immediately.
Lazy day lasagna rolls
Serves 8
Lasagna rolls take a bit more effort than the traditional layered lasagna but they are a kid-friendly way to present the same ingredients. Since you have more time to linger in the kitchen, consider rallying your kids to help you make this delicious Italian dish.
For the white sauce:
2 tablespoons unsalted butter
1-1/2 tablespoons all-purpose flour
1-1/4 cups milk
Salt and freshly ground black pepper to taste
Pinch ground nutmeg
For the lasagna:
1 tablespoon olive oil
1/2 pound sausage, casings removed, crumbled
1 (15 ounce) container ricotta cheese
1 (10 ounce) package frozen chopped spinach, thawed, squeezed dry
1-1/4 cups freshly grated Parmesan, divided
1 egg, lightly beaten
1/4 cup finely sliced fresh basil
Salt and freshly ground black pepper
Pinch of cayenne (or more to taste)
12 uncooked lasagna noodles
1-1/2 cups marinara sauce
1 cup shredded mozzarella
Directions:
To make the white sauce: Melt the butter in a medium saucepan over medium-low heat. Add the flour and whisk for about 3 minutes.
Whisk in the milk and increase the heat to medium-high. Whisk the sauce until it comes to a simmer and is thick and smooth, about 3 minutes. Season with salt and pepper and whisk to combine. Whisk in nutmeg and remove from heat.
Preheat the oven to 450 degrees F and set a large pot of salted water on the stove to boil.
Heat oil in a medium skillet over medium-high heat. Add sausage and cook, stirring often, until browned. Remove from heat and let cool slightly.
In a large bowl, whisk together ricotta, spinach, 1 cup Parmesan, egg and basil. Stir in sausage. Season with salt and pepper and cayenne. Set aside.
Boil the noodles in the large pot of salted water until they are tender but still firm to the bite. Drain noodles and lay them in a single layer on a large baking sheet sprayed with cooking spray so they don't stick together.
Spray a 13 x 9-inch glass baking dish with cooking spray.
Pour the white sauce over the bottom of the prepared baking dish. Spread about 1/4 cup of the ricotta mixture evenly over each noodle, then roll noodles up jelly-roll style.
Lay the lasagna rolls seam-side down in the baking dish, leaving some space in between each roll.
Spoon marinara sauce over the lasagna rolls. Sprinkle with mozzarella and remaining Parmesan.
Cover dish tightly with foil. Bake for 20 minutes. Uncover and bake for 15 more minutes or until the cheese on top is lightly browned.
Let rolls stand for 10 minutes before serving.
More tasty recipes when time is on your side
Pulled pork sliders
Grilled pizza recipes
Chicken bundles with cheese