Bite-sized summer snacks
Little bites can still be packed with big flavors!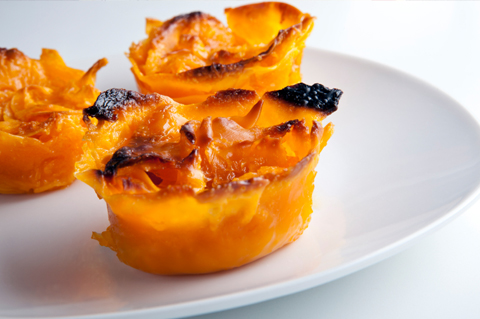 Summer time means bathing suit time, but that does not have to mean skimping on the food! Try eating small bites while still enjoying the big flavors! Here are two great recipes to serve at your next gathering -- whether by the pool or even a bridal/baby shower, these little treats are as easy to make as they are to chew!
Guava Brie bites
These are perfect little appetizers to serve at a spring shower or party! Super easy and quite delicious!
Ingredients:
1 box mini fillo shells (found in the freezer section)
1 Brie wedge
1 cup guava jelly
Directions:
Place fillo shells on top of an ungreased cookie sheet.
Cut the Brie into small pieces and place inside of the miniature fillo shells.
Place about 1/2 teaspoon of guava jelly on top of the Brie.
Bake at 325 degrees F for 5 to 10 minutes, or until the Brie has melted.
Orange baklava bites
The orange infused flavor comes from the syrup that you pour on top!
Ingredients:
1 cup pistachios
1 cup walnuts
1 cup almonds
2 teaspoons cinnamon
3 tablespoons melted butter
1 box miniature fillo cups
Ingredients for the orange syrup:
1/2 cup water
1/2 cup sugar
1/2 cup honey
Zest of one orange
Directions:
Mix the pistachios, walnuts and almonds on a cookie sheet and bake at 350 degrees F for 10 minutes to toast the nuts.
Remove from the oven and let cool for a couple of minutes.
Place nuts, cinnamon and melted butter into a food processor and pulse mixture.
Using a melon baller, place the melon size mixture into fillo cups (about 1 teaspoon).
Bake for 12 minutes. While baklava bites are baking, make syrup.
In a small saucepan, bring sugar, water and honey to a boil then reduce heat until mixture has thickened like you would make syrup, about 5 to 7 minutes.
After about 5 minutes, add the orange zest.
When you remove baklava bites from the oven, spoon orange syrup over each bite, going back for a second and third time, if necessary. (The nut mixture will absorb the syrup.) Enjoy!
More bite-sized foods to try
Artichoke wonton bites
Mini Caprese bites
Spicy Greek stuffed olives
---
More From SheKnows Explorer
---
---