Kid-friendly pool party recipes
During the hot summer months, there's no better place to have a party or family gathering than a pool. After all the cannonballs, nosedives and suntanning, you and your kids are sure to get hungry. Instead of eating heavy foods that will weigh you down, like hot dogs or burgers, make these light, airy and totally kid-friendly bite-size snacks instead!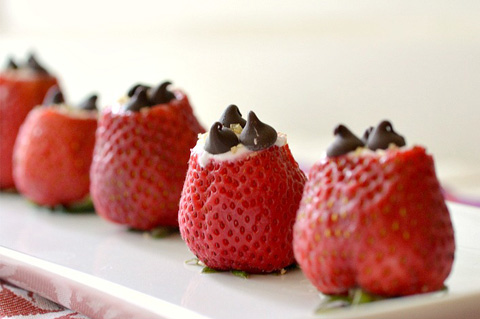 Yogurt-stuffed strawberries, bacon wrapped shrimp, apple and cheese puffs and green bean fries are the perfect bite-size treats your kids (and the chaperoning adults) will love! Plus, they are easy to make, store and eat and don't spoil quickly in the sun!
Yogurt and chocolate stuffed strawberries
Yields 12 strawberries
Ingredients:
12 strawberries, tops removed
About 1-1/2 cups of plain Chobani yogurt (2 percent)
1/4 cup milk chocolate chips
Gold sprinkles
Directions:
Remove the bottoms (about 1/4 the way down) from the strawberries and hull the inside. (Remove the fruit inside if there is any.)
Fill each strawberry with about 1 tablespoon or so of Greek yogurt. Sprinkle the top with chocolate chips and sprinkles.
Freeze or chill strawberries until you serve them so they are a little frozen on the outside but still creamy on the inside, like an ice cream cone!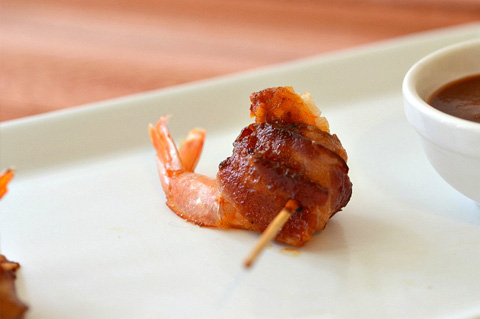 Barbecue bacon wrapped shrimp
Yields 12 pieces
Recipe adapted from Sunset.
Ingredients: 
12 pieces cooked shrimp, defrosted
6 slices bacon, cut in half lengthwise
About 1 cup barbecue sauce
Salt and pepper
Directions:
Preheat oven to 450 degrees F. Grease a baking sheet with nonstick cooking spray. Arrange the bacon on the cookie sheet and bake for about 6 minutes, or until bacon is browned.
Carefully wrap one piece of bacon around each shrimp and secure with a toothpick.
Heat your grill to medium-high heat. Place shrimp in a large wire basket (like this one) and place on the grill. Baste each shrimp (using about 1/4 of your sauce) and cook about 2 minutes. Flip the basket, baste the shrimp again in more sauce (about 2 to 3 tablespoons) and cook another 3 minutes.
Serve shrimp with remaining sauce and enjoy!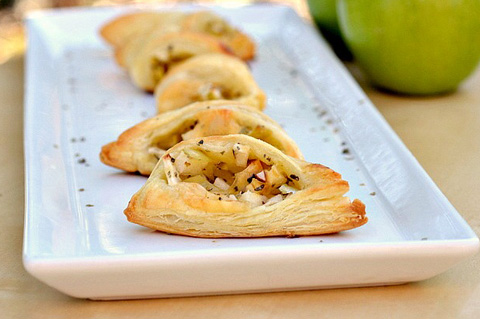 Apple and cheese puffs
Yields 24 pieces
Ingredients: 
1 sheet of frozen puff pastry
1/2 green apple, finely chopped
2 ounces gouda, mozzarella or fontina cheese
1-1/2 tablespoons honey
1 tablespoon fresh chives
Dash of sea salt
Directions: 
Defrost puff pastry by removing it from the package and letting sit, room temperature, for about 40 minutes.
Preheat oven to 400 degrees F. Grease a non stick baking sheet with cooking spray and set aside.
Unroll pastry sheet on a lightly floured surface and cut into 12 (4-inch) rectangles. Cut each rectangle in half down the middle to create 24 triangles.
Mix apples, chives and honey together. Add dash of salt. Scoop about 1/2 teaspoon of apple mixture into the bottom of the largest part of the triangle. Place one piece of cheese on top and fold pastry shell so that the bottom is closed but the top remains open, like a pocket. Repeat until all shells are filled.
Bake for at least 15 minutes or until shells are golden brown. Enjoy warm!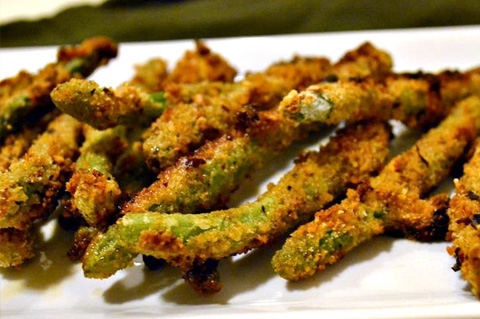 Crispy baked green bean fries
Yields 16 green bean fries
Ingredients: 
16 fresh green beans, rinsed
3 tablespoons of all-purpose flour
1/3 cup of panko crispy bread crumbs
1 egg, beaten
1 tablespoon chili powder
1/8 teaspoon sea salt
1/8 teaspoon crushed black pepper
1/2 teaspoon fresh basil, finely chopped
1 tablespoon of olive oil
Directions: 
Preheat oven to 425 degrees F. Grease a nonstick cooking sheet with olive oil. Set aside.
Pour flour into one bowl. In another shallow bowl, beat egg. In another bowl, mix breadcrumbs with spices.
Take green bean (cut in half if need be) and douse in the flour. Shake off any excess. Then dip into the egg, then completely douse in the bread crumbs. Place on the cookie sheet. Repeat with the rest of the green beans.
Bake for 13-15 minutes or until crispy! Enjoy with Ranch or your favorite dipping sauce!
More kid-friendly dishes
8 Recipes you can make with the kids
Kid friendly recipes with 5 ingredients or less
Kid friendly summertime snacks