Seven layer rolled tacos recipe
Everyone loves a seven layer dip at a party -- so how great would it be to make it a meal! Just layer your seven layer dip ingredients on a tortilla, roll up and serve! This recipe is so simple to make that it's sure to become a go-to weeknight meal for your family.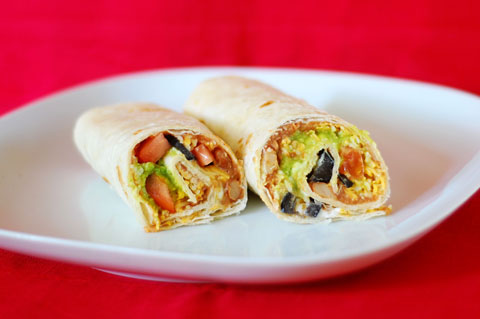 Seven layer rolled tacos recipe
Serves 6
Ingredients:
1 (16 ounce) can refried beans
1/4 cup water
6 (10-inch) flour tortillas
1/2 cup shredded cheese
1/2 cup guacamole
1/2 cup sour cream
1/2 cup chopped black olives
2 large Roma tomatoes, chopped
6 chopped green onions
Directions:
Combine the refried beans and 1/4 cup of water in a small pan on the stove and heat until warm.

Heat six flour tortillas in the microwave for 15 seconds to soften them.
Lay out your tortillas and spread 1/3 cup of refried beans over each tortilla.
On top of the beans add a thin layer of shredded cheese, guacamole, sour cream, chopped black olives, chopped tomato and chopped green onion.
Roll the tortillas as tightly as possible and secure in place with a toothpick, if needed.
Slice in half and serve.
More delicious Mexican recipes
Family-style Mexican recipes
Mexican pizza recipe
Mexican egg casserole recipe
---
More From SheKnows Explorer
---
---