Grilled corn and black bean pizza recipe
Grilling is great this time of year because you don't have to heat up the house by turning on the stove and the oven. If you are getting tired of grilling the usual burgers and steaks, give grilled pizza a try! This corn and black bean pizza has all of the smoky summer barbecue flavor you love, without the meat!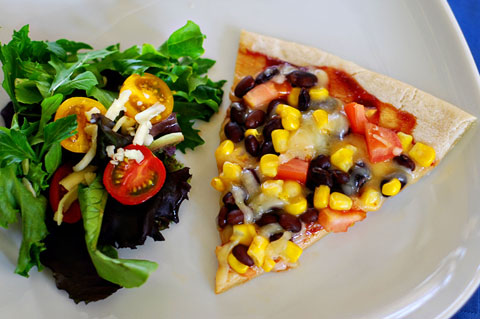 Grilled corn and black bean pizza recipe
Serves 4
Ingredients:
1 package refrigerated pizza dough
1/4 cup olive oil
1/4 cup barbecue sauce
3/4 cup black beans
3/4 cup sweet corn kernels
1 large Roma tomato, chopped
6 ounces Monterey Jack cheese, shredded
Directions:
Preheat the grill to medium heat.
In a large bowl toss together the black beans, cork kernels, chopped tomato and shredded cheese.
Roll your refrigerated dough out on a sheet of parchment paper. Coat the top side thoroughly with olive oil.
Take the rolled out pizza dough out to the grill, flip it so that it lands oiled side down onto the grill. (It is important to have clean grill grates so that the dough won't stick.) 
Oil the other side of the pizza dough, and allow the dough to cook for 3-5 minutes, or until the crust begins to puff and is lightly brown on the bottom
Flip the pizza dough and quickly spread the barbecue sauce over the pizza dough and top with the toppings mixture.
Close the grill and cook for an additional 3-5 minutes, until the crust is golden brown and the cheese is melted.
More unique pizza recipes to try
Pita prosciutto recipe
Breakfast pizza with eggs and veggies
Fresh nectarine and gorgonzola pizza recipe
---
More From SheKnows Explorer
---
---