Cucumber watermelon salad recipe
This cool and refreshing cucumber and watermelon salad is everything you love about summer -- all in one bowl. It's an excellent side dish to take along to a summer barbecue, potluck, or as a snack or side dish to make at home. It is the perfect balance of sweet and tangy once you add in your favorite balsamic vinaigrette dressing.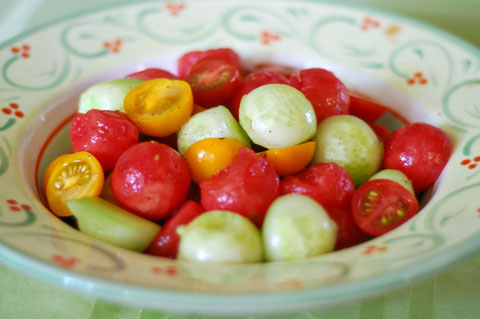 Cucumber watermelon salad recipe
Serves 4
Ingredients:
1/2 of one small watermelon
2 large cucumbers, peeled
1 cup chopped fresh cherry or grape tomatoes
1/4 cup balsamic vinaigrette dressing
2 tablespoons chopped fresh basil (optional)
Directions:
Use a melon baller to scoop out the watermelon and cucumber. Add your watermelon and cucumber pieces to a large bowl.
Slice your tomatoes in half lengthwise and add them to the bowl.
Toss watermelon, cucumber and tomato in a large bowl with 1/4 cup of balsamic vinaigrette dressing.
Garnish with 2 tablespoons of chopped fresh basil, if desired.
More summer salad recipes
Greek wedge salad recipe
Grilled tomato and peach salad
Raw beet, walnut and goat cheese salad recipe