Manly menu for Father's Day
Father's Day is right around the corner, it's time to start brainstorming some delicious, manly eats for the father in your life! When it comes to feeding dad (and really all men, for that matter) simple is key and when in doubt, serve them meat. This menu is simple, full of fresh, delicious ingredients and has all the stuff dad loves, like steak, beer and potatoes. Oh, and bacon for good measure.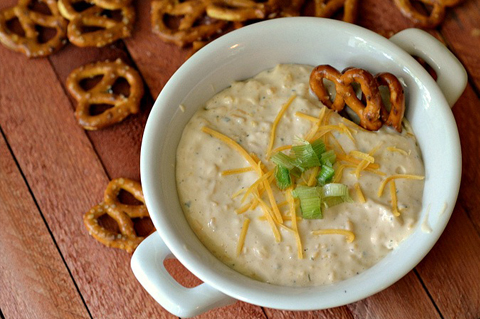 As the saying goes, the only way to a man's heart is his stomach, so feed Dad well with this delicious menu made with beer, barbecue and bacon -- the trifecta of manly foods!
Beer cheese dip
Yields 1-1/2 cup
Recipe adapted from Hidden Valley.
Ingredients: 
1/2 packet Hidden Valley Ranch dressing mix
3/4 cup beer
1 cup shredded part skim cheddar cheese
1 (8 ounce) package cream cheese
Pretzels for dipping
Chives for garnish
Directions: 
Mix cheese, cream cheese and dressing mix into a medium bowl. Slowly stir beer in until mixture is creamy but not watery. Serve with pretzels and enjoy!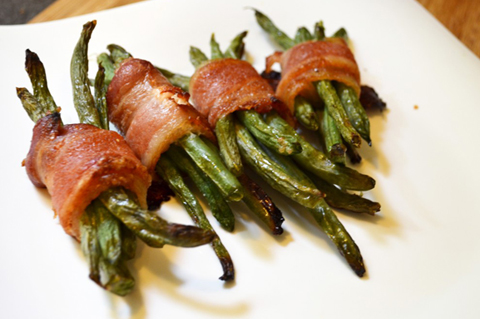 Bacon wrapped green beans
Serves about 6
Ingredients: 
1 pound fresh green beans
8 slices thick-cut bacon
1 1/2 tablespoons maple sugar, warmed
1 tablespoon brown sugar
1 tablespoon butter
Salt and Pepper
Cooking spray
Directions: 
Grease a cookie sheet with cooking spray and preheat oven to 400 degrees F.
Wash beans, then salt and pepper them lightly. Grab 5-6 beans and group them together.
Wrap the cluster with a piece of bacon and place them, seam side down, on a greased baking sheet. Repeat with the rest of the beans.
In a small saucepan over medium heat, heat butter, brown sugar and maple until melted. Using a brush, liberally apply the butter mixture over the green bean bundles until covered.
Bake for 40-45 minutes until the edges of the beans and bacon is crispy and brown.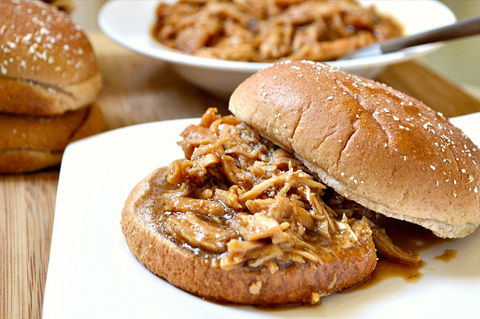 Chicken barbecue sandwiches
Serves 5
Ingredients: 
3 frozen boneless, skinless chicken breasts
1/2 large red onion, chopped
1 cup crushed pineapple
3 cloves garlic, finely minced
1 tablespoon extra virgin olive oil
3/4 cup Jack Daniels
1/4 cup molasses
2 tablespoons Dijon mustard
1/4 cup plus 1 tablespoon brown sugar
3 tablespoons lemon juice
1 tablespoon Worcestershire sauce
Salt and pepper
Directions: 
In a medium sauce pan, heat olive oil and cook onions, garlic and Jack Daniels until translucent, about 10 minutes. Remove from heat and light. Let flame sit for 20 seconds. Add remaining ingredients, bring to a boil and turn heat down to low. Simmer for at least 10 minutes. Remove and strain through a wire mesh strainer over a bowl to catch the onions and garlic. Discard onions and garlic and chill sauce overnight.
Next day, place chicken in a slow cooker. Pour sauce over it and set on low. Let cook for 3 hours if on high and about 5 hours on low. When chicken is fully cooked, remove from sauce and shred in another bowl.
Place chicken back into the sauce and let sit for at least an hour to absorb the flavor. Serve on a bun with some Jack Daniels and enjoy!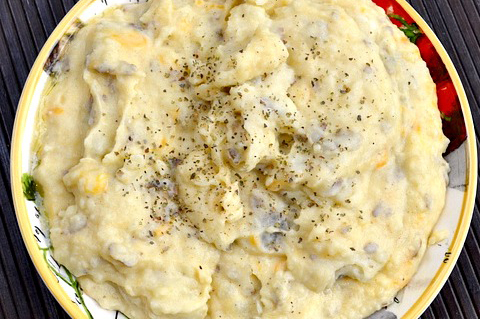 Twice baked mashed potatoes
Serves 6
Ingredients: 
1 tablespoon olive oil
6 russet potatoes
1 teaspoon sea salt
1/2 cup butter
1/2 cup sour cream
1/2 cup milk
1 tablespoon sea salt
1/2 tablespoon ground black pepper
1 cup cheddar cheese
1 teaspoon parsley
For directions on how to prepare this, check out the recipe here on SheKnows >>
More manly recipe ideas
The macho manly meat pizza recipe
Buffalo chicken nachos recipe
Make him the perfect cocktail
---
More From SheKnows Explorer
---
---