Summer cooking camps and programs for kids
Instead of sending your kids to a traditional summer camp, look for programs that are geared toward their specific interests. Specialty camps, though they may be more expensive than general camps, keep your kids more engaged and teach them skills that they can use for a lifetime. For your tweens and teens who love to cook, consider these summer cooking programs and camps available across the country that will inspire their culinary creativity.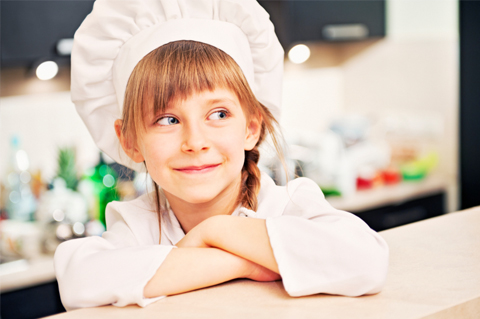 Julian Krinsky Camps and Programs (JKCP) Cooking School
Located in Philadelphia on the prestigious Villanova University and Haverford College campuses, this summer cooking program for kids ages 10-18 helps children see food in a whole new way. The program allows students to prepare various dishes daily, learn from top culinary experts, find out about sustainable cooking and more. In addition to learning all the culinary techniques in the kitchen, from knife skills to plating presentation, students all visit farms to learn how the food is grown. Learn more about the cooking school and other summer programs available from JKCP by visiting their website at JKCP.com.
Kids' Culinary Academy of Vermont
If your child loves to be involved in the kitchen, this residential summer cooking camp in rural Vermont could be the perfect choice. For children ages 10 and up, Kids' Culinary Academy offers one- and two-week sessions where campers learn various skills -- from meal planning to bread baking and beef cooking to kitchen hygiene. In addition, they also have a special one-week session that focuses only on baking and pastry arts. Find out more about all the programs available at the Kids' Culinary Academy of Vermont on their website at kidsculinary.com.
PCC Kids Summer Camps
PCC Natural Markets in the Seattle area offers a variety of cooking camps for kids. Their Around the World in 5 Days cooking camps are extremely popular. Available for children in two ages groups -- ages 8-11 and ages 12-15 -- these hands-on classes allow future chefs to learn about cooking cuisine from around the globe. Every day features a different type of cuisine: Italian, Middle Eastern, Chinese, Moroccan and Cuban. PCC also offers a special gluten-free kids cooking camps where kids ages 7-12 can learn about making delicious recipes, including desserts with healthy, gluten-free ingredients. Pccnaturalmarkets.com lists all the details, locations and rates for these cooking camps for kids.
Blue Ribbon Cooking & Culinary Center Kids' Programs
Also in Seattle, you'll find the Blue Ribbon Cooking & Culinary Center. Their summer kids' programs are well-known across the country. They offer a wide array of programs for kids ages 7 and up. You can choose from their Classic Culinary Camp, Baking and Pastry Camp or Advanced French Culinary Workshop. Additionally, they have a Mom and Me program where mothers and their kids can bond over cooking. 2012 marks the 18th year for the Blue Ribbon Kids' Summer Cooking Camps. You can download the registration form and learn more about all their programs at blueribboncooking.com.
Young Chef's Academy Mini Camp
Young Chef's Academy (YCA) has locations all around the country. Throughout the year, they offer culinary classes, mini-camps and birthday parties geared toward kids ages 4-14. Through their entertaining curriculum, kids learn about the basics of cooking, menu planning, food safety, table setting and more. In the summer, YCA's Can-I-Cook mini camp is very popular. The mini camp features three-hour sessions for three, four or five consecutive days where campers learn to prepare unique recipes and experience new cuisines. Learn more about all the classes and camps available at YCA at youngchefsacademy.com.
Sur La Table Kids & Teens Cooking Camps
Throughout the summer, Sur La Table offers an assortment of cooking camps and programs at a wide variety of locations across the country. Choose from: World's Best Food, Road Trip USA and Sweet Treat Baking Series. At surlatable.com, you can find more details about the programs, view sample menus and find a location near you.
More about cooking with kids
Picnic recipes the kids can make
Benefits of cooking with preschoolers
No-bake desserts the kids can make