Gourmet gift guide for Father's Day
From edgy cutlery to the latest grilling tools, here's our Father's Day gourmet gift guide for the foodie men in your life.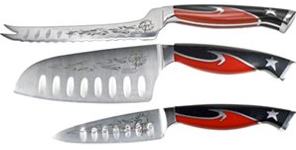 Guy Fieri Knuckle Sandwich 3-piece Cutlery Set ($115)
For the cutting-edge Dad who loves wielding high-quality knives, Guy Fieri's utility set of boldly-named, strikingly-designed cutlery includes: a 5.5-inch Dragon Dagger Utility Knife, a 4-inch Lil' Guy Paring Knife and a 5.5-inch Chopper Santoku Knife with Crisscross Crusher. These knives are not only unique in appearance but are ergonomically angled at the blade which makes them feel like an extension of your hand.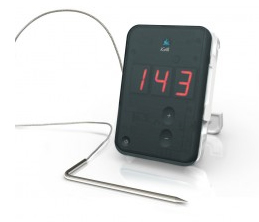 iGrill ($80)
There truly is an app for everything. If Dad is a techie who can't get enough of the grill, give him a Father's Day gift that turns grilling into a high-tech endeavor. The iGrill is a meat thermometer with a dashboard gauge that gives you real time information about the grilled goods from as far as 200 feet away. When the food is grilled to perfection, it then sounds an alarm to keep you from incinerating the family meal. Equipped with long-range Bluetooth, useful apps and a range of other fun features, the iGrill can turn Dad's iPhone, iPod Touch or iPad into his very own personal grilling sous chef.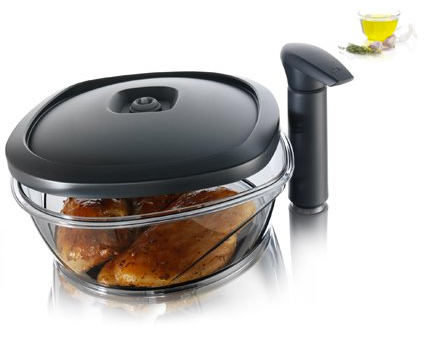 Instant Marinator by Vacu Vin ($40)
When Dad wants to flavor his grilled goods or the meats he's putting under the broiler or pan-sautéing, the Instant Marinator will give him a unique and easy way to marinate and tenderize meat, fish and chicken in just minutes. It works by creating a vacuum which opens up the pores and fibers of the meat allowing for a deep delicious flavor!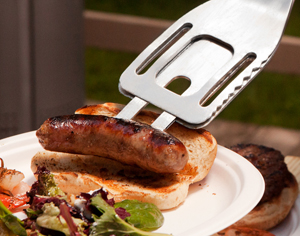 Stake ($30)
Is your Dad a neat freak even at the grill? Instead of giving him a set of barbecue tools that get scattered all over the patio, surprise him with the Stake, a new all-in-one barbecue tool that transforms from spatula to fork to tongs. Made of brushed stainless steel and wood, this grilling gadget has a smooth leaf spring mechanism for the tongs, a fork that slides out for use then tucks safely into the spatula, and handles that can be locked together or opened with one quick motion.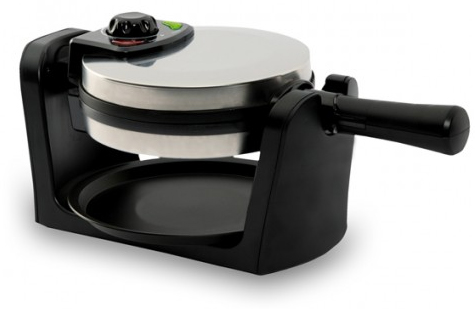 West Bend Rotary Waffle Maker ($50)
One of our favorite kitchen gadgets, the West Bend Rotary Waffle Maker will make Dad feel like an expert breakfast chef. Easy to use and easy to clean, this professional-caliber appliance makes 1-inch thick, 7-inch round gourmet-quality Belgian waffles with extra-deep pockets and four easy-to-cut sections. As a bonus, the stylish waffle maker has a fold-away handle and compact, upright design that saves counter or cabinet space.

T-fal's Giant Pancake Griddle ($30)
If Dad prefers a high stack of fluffy pancakes for breakfast, he'll love the oversized pancake griddle from T-fal. Not only can it cook an entire batch of flapjacks at once, it features Thermo-spot technology to let you know when it's hot enough for the batter and is made with T-fal Durabase to ensure even cooking across the nonstick griddle surface.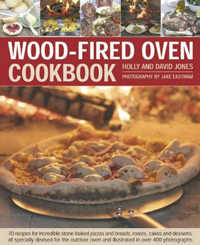 Wood-Fired Oven Cookbook ($18)
For the dad who takes pride in his wood-fired oven (or dreams of building one some day), this unique cookbook features 70 recipes for stone-baked pizzas, breads, fish, meats, desserts and more. Written by Holly and David Jones, the beautifully-illustrated Wood-Fired Oven Cookbook provides tips on getting the most out of your wood-fired oven.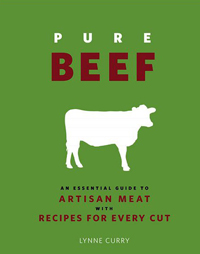 Pure Beef: An Essential Guide to Artisan Meat with Recipes for Every Cut ($27)
Pure Beef is an invaluable cookbook for the dad who can't go a meal without meat -- and prefers his meat organic and grass fed. Featuring an engaging beef cooking tutorial and a cook-friendly beef-cut chart, this book will teach Dad how to grill, roast, stew, simmer and sauté every cut of beef. Pure Beef is organized by cooking methods and beef cuts -- and includes 140 recipes and full-color photos.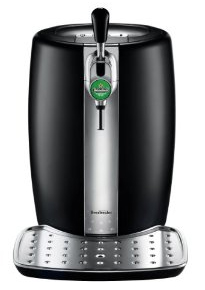 Krups and Heineken B100 Beertender ($150)
Give Dad the ultimate beer drinking experience this Father's Day with the KRUPS BeerTender. This beautifully-designed appliance is compatible with the Heineken Draught Keg system, which releases Co2 every time the tap is opened -- ensuring Dad's favorite beer remains fresh for up to 30 days. The BeerTender maintains beer at an ideal 37.4 degrees F, is engineered to work exclusively with Heineken and Newcastle Brown Ale, and allows for a crisp quality beer with Heinekens' signature head of foam and trademark bite. It also features an LED display temperature indicator, detachable pour handle, detachable draw spout and a removable tray.
More Father's Day gifts and recipes
Father's Day cookbooks Dad will crave
Father's Day grilling recipes
Bobby Flay Father's Day recipes
---
More From SheKnows Explorer
---
---