Not the Perfect Cook: Pizza in 30 minutes at home
No need to order this family favorite because a delicious, healthy pizza is underway in 30 minutes or less in your own oven!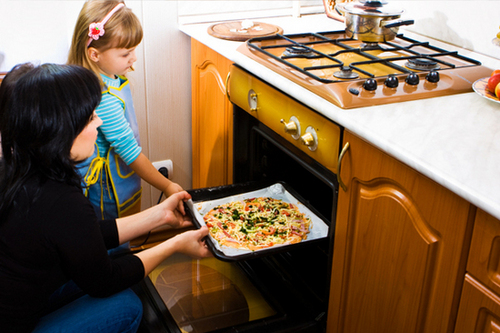 Homemade cheese and spinach pizza
Why not make Friday night Pizza Night at your house? Homemade pizza is easy to make and can be a fun, all hands on deck family event. Ask the kids what their favorite toppings are and let them help you decorate the pizza. Go to the farmers market and pick out fresh produce. Plant basil and oregano in small flower pots with your kids and reap the benefits every pizza night, tearing off your very own herbs. Experience the many delicious cheeses and expose your children to something new each week. As a bonus, you will likely find that while cooking together, your children open up and talk more about their day, making dinnertime a learning experience for everyone!
Ingredients:
1 pound pizza dough (purchased from a grocer's bakery or local pizzeria)
1 cup ricotta cheese
2 cups shredded mozzarella cheese (or Italian blend)
1 bag fresh baby spinach, cooked
1/2 red onion, diced and sautéed with spinach
1/2 orange bell pepper
2 cloves garlic, diced and cooked with spinach
1 tablespoon olive oil
3 to 4 fresh Roma tomatoes, sliced
Fresh basil
Crushed red pepper for heat for the grown-ups (and if the kids like the heat, put it on the entire pizza!)
Directions:
Preheat oven to 400 degrees F.
Spray a pizza pan with cooking spray.
Roll pizza dough out onto the pizza pan.
In a skillet over medium-high heat, add olive oil. Sauté the red onion, bell pepper and garlic (add any other vegetables you desire), then add spinach. The spinach looks like it will overflow your skillet, but it will cook down to almost nothing.
Remove spinach mixture from heat and pour onto paper towels and blot any liquid. (This keeps your pizza from being soggy.)
Sprinkle the spinach mixture across the pizza dough.
Next add the tomato slices and a dollop of the ricotta cheese across the entire pizza.
Sprinkle the mozzarella (or Italian blend cheese) across the entire pizza and place in the oven to bake for 10 minutes.
Slide pizza off the rack and bake directly on the oven rack for another 10 minutes.
Remove the pizza from the oven, sliding back onto the pan and tear fresh basil to sprinkle on top of pizza.
Enjoy!
Call on these other homemade pizza recipes