An easy and romantic picnic for two
The weather is beautiful and the evenings are cool -- have fun with the love of your life by taking a date-night picnic to your favorite park or outdoor location. The menu is delicious and does not warrant refrigeration. Pack up your favorite bottle of wine and celebrate!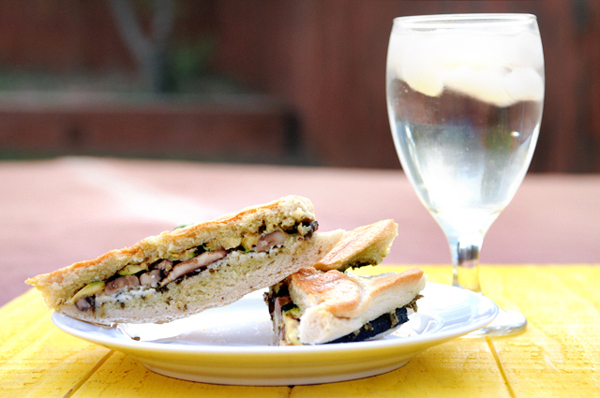 Mushroom and zucchini pesto panini
Serves 2
Ingredients:
4 slices fresh bread
2 medium zucchini, washed
1 cup cremini mushrooms, cleaned and sliced
4 tablespoons prepared pesto
2 tablespoons olive oil
2 tablespoons butter
Salt and pepper
Directions:
Heat olive oil in a sauté pan over medium-low heat.
Sauté mushrooms in 1 tablespoon of olive oil for about 3-4 minutes until just tender. Remove from the pan and sprinkle lightly with salt and pepper.
Slice the zucchini length-wise in 1/4-inch slices. Brush each side with the remaining tablespoon of olive oil.
Sear in the same pan the mushrooms cooked in for about 3-4 minutes per side until tender.
Remove from heat and sprinkle with salt and pepper.
To build the sandwich spread each slice of bread with 1 tablespoon of pesto. Layer half of the zucchini on each one, then half of the mushrooms, then top with the other slice of bread, pesto side down.
Spread each external piece of bread with 1/2 a tablespoon of butter.
Place in a heated panini press or grill pan and cook for 3-4 minutes until the bread is golden and crispy.
If transporting, wrap the sandwiches loosely in parchment paper until ready to eat.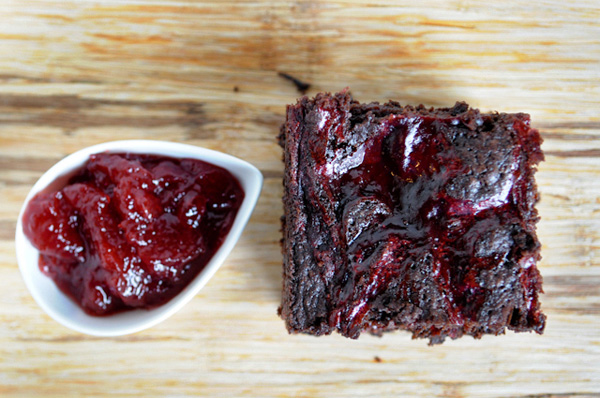 Chocolate covered strawberry brownies
Makes 12 brownies
Ingredients:
3/4 cup butter, melted
1-1/2 cups sugar
2 eggs
2 tablespoons vanilla extract
1-1/3 cups all-purpose flour
3/4 cup cocoa powder
1/2 teaspoon baking powder
1/2 teaspoon coffee powder
1/2 teaspoon salt
1/2 cup chocolate chips
1/2 cup strawberry preserves
Directions:
Preheat oven to 350 degrees F.
Grease and flour a 9 x 9-inch pan and set aside.
In a large bowl beat together the butter and sugar until combined, then add the eggs, vanilla and coffee powder and mix until incorporated.
Sift in the flour, cocoa powder, baking powder and salt and mix until just combined.
Fold in the chocolate chips.
Spread evenly into the prepared pan.
Heat the strawberry preserves in a microwave-safe bowl until slightly runny, about 15-20 seconds.
Spoon evenly over the surface of the brownie batter.
Using a butter knife carefully swirl the preserves into the batter.
Bake at 350 for 30-35 minutes until a toothpick inserted comes out clean.
Let cool completely before serving.
If transporting, wrap loosely in parchment paper.
Even more delicious picnic ideas
Plan a healthy picnic
Easy no-cook picnic dinner
Healthy pasta salads