Peaches and cream with blueberries
Bathing suit season may be here, but that does not have to mean no more desserts.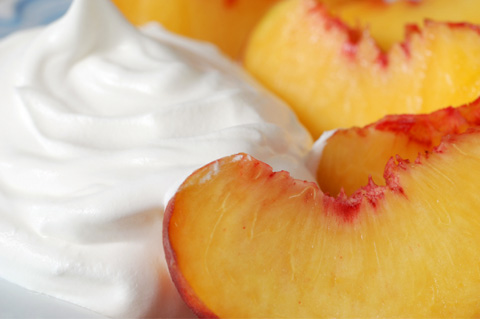 Summer is here and we all feel that we need to look our very best. That is actually easy to do when we can eat our very best at the same time! Fresh peaches or berries are available at produce stands and farmers markets, so you can stock up on these summer favorites, freezing them easily for your favorite summer dishes. Take fresh peaches or berries and serve them in a martini glass with homemade whipped cream for a light, yummy dessert. We eat with our eyes first, so dress up the fruit in a pretty martini glass and enjoy a surefire way to have the best of both worlds.
Peaches and cream with blueberries
Ingredients:
Fresh sliced peaches and blueberries -- or you may use strawberries or blackberries
1 cup heavy whipping cream
3 tablespoons sugar
Directions:
Place bowl and beaters in freezer to chill while preparing fruit.
Slice peaches and toss with a bit of sugar, if needed.
Beat heavy whipping cream in a chilled bowl with a hand mixer and slowly add sugar. When soft peaks are formed, stop beating (or you will have butter!).
Place peaches in a chilled martini glass and toss in a couple of blueberries.
Top with homemade whipped cream.
Flavor your whipped cream
For a boost of flavor, add some of these items to your cream:
Vanilla extract
Cinnamon
Honey
Cocoa powder
Ginger
Lavender
Fresh mint or mint extract
Fresh basil
Rosemary
Add toppings
Add a little pizzazz to your dessert by offering several toppings to choose from:
Shredded coconut
Sliced almonds, walnuts or pecans
Chocolate chips
Caramel sauce
Chocolate sauce
Sprinkles
Crushed candy
Try these other fresh fruit recipes