Not the Perfect Cook: Ricotta caprese salad
Even Not the Perfect Cook can use the perfect summer ingredients to make this delicious salad!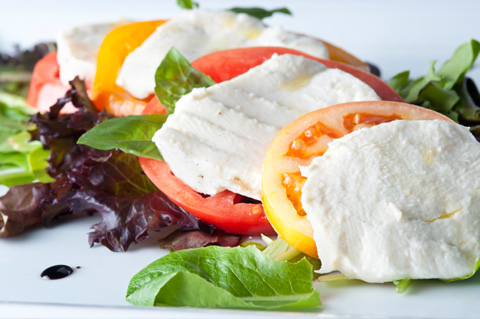 Ricotta caprese salad
Summertime is the perfect time to eat what's fresh, because fresh is in abundance. Something as elegant as caprese salad can be prepared with such ease, especially in the summer. When you throw in a dollop of ricotta, even the picky eaters might give it a try! If you do not have fresh mozzarella in your refrigerator, fret not. You can use shredded mozzarella and still enjoy the beautiful flavors.
Serving size will vary
Ingredients:
1 bunch of fresh basil
Fresh tomatoes
1 pound fresh mozzarella cheese
1 cup of ricotta cheese
1 cup of fresh greens
Balsamic vinegar
Extra virgin olive oil
Sea salt
Black pepper
Directions:
Slice tomatoes and mozzarella 1/4-inch thick.
Sprinkle a bed of fresh greens on a plate or platter, layer alternating slices of basil, tomato, mozzarella and a dollop of ricotta. Continue to repeat the layers and then drizzle with balsamic vinegar and extra virgin olive oil.
Season with sea salt and pepper.
More tomato salads to try