How to make sorbet
The juicy ripe bounty of summer fruit is all you need to make a refreshingly sweet assortment of sorbet. Here is ChefMom's how-to for a basic fruit sorbet, along with our favorite variations.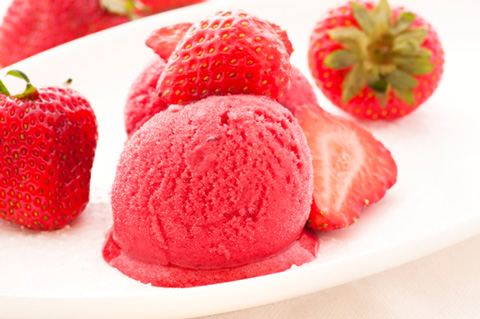 If you're looking for a lower-fat frozen dessert, fruit sorbet is the way to go. Free of dairy, fruit sorbet is fat- and cholesterol-free, vegan-friendly -- and the perfect summer treat if you're lactose-intolerant. However, just because sorbet is lower in fat, it may not be lower in calories or sugar, depending on the amount of sugar you need to add to the fruit. To keep sugar to a minimum, make sure the fruit you use is ripe and is at its peak sweetness.
Basic strawberry sorbet recipe
Serves 10
You'll have to adjust the lemon juice and sugar to taste -- it will vary based on the sweetness of the fruit.
Ingredients:
2 pounds ripe strawberries, trimmed, sliced
1 cup water
About 1 cup granulated sugar
2 tablespoons fresh lemon juice
Directions:
In a food processor or blender, combine strawberries and water. Purée until smooth.
Taste and add half of the sugar and the lemon juice. Blend and taste again. Add more sugar, to taste.
Pour mixture into an ice cream maker and freeze according to manufacturer's instructions.
Transfer to a freezer-safe container and freeze until firm.
Cook's note: When you're ready to serve, let the sorbet soften slightly at room temperature so it is easier to scoop.
Sorbet recipe ideas
The best way to find your favorite sorbet flavors is to experiment with the ripest, sweetest in-season fruits available. You can also try tea, juice and even wine for the liquid, mix different fruits in one sorbet and add herbs and spices for variety. Here are just a few sorbet ideas:
Blueberry green tea sorbet -- use blueberries and substitute cold green tea for the water.
Ginger brown sugar rhubarb sorbet -- substitute rhubarb for the strawberries and half of the sugar with loosely packed brown sugar.
Peach Melba sorbet -- swap in peach slices and fresh raspberries for the strawberries.
Mango sorbet -- substitute 2 pounds of peeled, diced mango for the strawberries.
Melon sorbet -- substitute 2 pounds of melon flesh for the strawberries.
More summer dessert recipes
Grilled pound cake trifle
Gluten-free lemonade cake
Lemon chess pie