Baked taquitos recipe
Served at thousands of gas stations and truck stops all over the U.S., taquitos are even in America's grocery store freezer cases and in restaurants. But you can make these road-trip-friendly rolls at home, too. Preparation is just messy enough to be fun for the kiddos without a lot of extra cleaning to do later.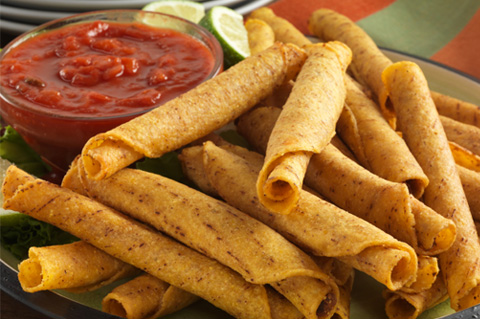 Baked taquitos recipe
Taquitos (the Spanish diminutive of the word taco, literally meaning little taco) is similar to a flauta in that its filling is wrapped in a tortilla and fried. Traditionally, taquitos are made with corn tortillas, whereas flautas are typically made with flour tortillas. You can get all the flavor of the tasty little treats without all the grease by making your own in the oven. This recipe is so simple you can try it tonight!
Ingredients:
1 (9.75 ounce) can premium chunk chicken in water
1/2 (4 ounce) can roasted and peeled green chilies, finely diced
2 teaspoons onion, finely diced
1/4 teaspoon cumin
1/4 teaspoon dried cilantro
1 to 2 cloves garlic, minced
12 to 14 corn tortillas
Cooking spray
Salsa, sour cream, queso or guacamole for dipping
Note: People's preferences for cumin vary and some find it spicier than others. It also differs from brand to brand. You may wish to add more or less, depending on your preferences.
Directions:
Preheat the oven to 350 degrees F.
Coat a medium skillet heated to medium with a small amount of cooking spray and add chicken, chilies, spices and garlic. Stir well to lightly toast spices and heat until chicken is thoroughly warmed.
Warm the tortillas for a few seconds in the microwave to soften. If necessary, coat with a small amount of cooking spray to ensure they don't crack when you roll them.
Place a small amount of chicken in a straight line down the center of each tortilla and roll tightly. Close with a toothpick and place crease-side-down in a 9 x 13-inch casserole dish.
Bake for 15 to 20 minutes, flipping once or until crispy and lightly browned.
Serve with sour cream, guacamole, salsa or queso.
More Mexican recipes
Enchilada soup recipe
Christmas menudo recipe
Mexican hot dogs