Not your average pasta salad
I love to make a big, hearty salad for lunch -- but sometimes I'm left feeling like it wasn't quite enough to keep me full until dinnertime. If you love green salad and you love pasta salad, try combining the two to get the best of both worlds! A pasta salad made with salad greens is more nutritious and more filling to get you through your afternoon.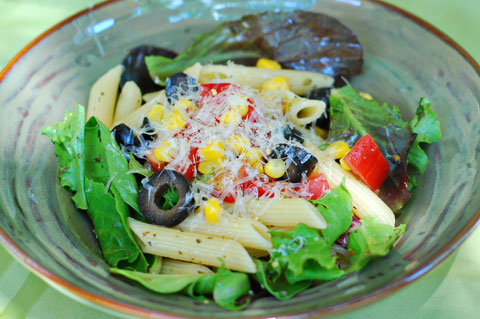 Not your average pasta salad
Serves 4
Ingredients: 
4 cups cooked penne pasta
4 cups salad greens
1/4 cup corn
1/4 cup sliced black olives
1 large roma tomato, diced
Freshly grated Parmesan cheese
Salt and pepper to taste
Vinaigrette dressing:
1/4 cup red wine vinegar
1/3 cup extra virgin olive oil
1 tablespoon Italian seasoning
1 teaspoon garlic powder
Directions: 
Cook penne pasta until al dente. Drain and rinse under cold water to cool.
Combine 4 cups of cooked penne pasta and 4 cups of salad greens in a large bowl.
Top salad with 1/4 cup of corn kernels, 1/4 cup of sliced black olives and diced tomato. Toss to combine the ingredients.
To make the dressing, whisk together red wine vinegar, extra virgin olive oil, Italian seasoning and garlic powder. Pour over the salad and toss to coat.
Top the salad with some freshly grated Parmesan cheese and salt and pepper to taste.
More healthy salad recipes
Strawberry spinach salad
Greek wedge salad recipe
Frisee salad with orange-fig dressing