Pear and cherry crisp with walnut-oat topping recipe
This dessert won't make you feel guilty, but it sure will taste great! It's always a good idea to use seasonal fruits when possible -- this will give you the sweetest, most fresh-tasting dishes. If you can't get your hands on fresh, frozen fruit works well, too, like in the case of the cherries for this recipe.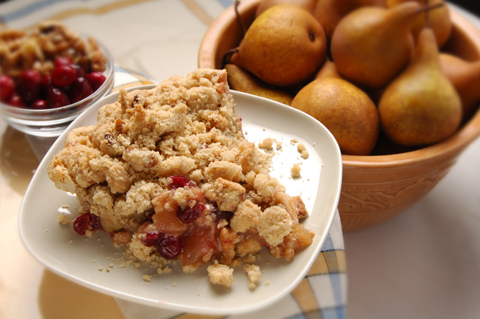 Pear and cherry crisp with walnut-oat topping
Serves 8
Whether you serve this as dessert for the family or as a special treat for guests, consider a scoop of vanilla ice cream (or frozen yogurt for less fat) for the side! This dessert makes a pretty, colorful presentation and has a welcoming feel, any time of the year.
Ingredients:
1/2 cup all-purpose flour, plus 2 tablespoons
1/2 cup sugar
3 tablespoons rolled oats
1/3 cup butter, chilled
1/4 cup chopped walnuts
1/4 teaspoon cinnamon
4 cups Anjou pears, sliced and cored
1 cup pitted cherries, frozen unsweetened
1/4 cup lemon juice
1/2 teaspoon lemon zest
Directions:
Preheat your oven to 375 degrees F.
Use a large bowl and combine the 1/2 cup of flour, 1/4 cup of sugar and the rolled oats.
Cut the chilled butter into small pieces and use a pastry blender to mix it in with the flour mixture until it combines into small, crumbles. Add the walnuts. Set the mixture aside.
In another large bowl, add the remaining sugar, the extra flour and the cinnamon.
Toss in the pear, cherries, lemon juice and zest and mix well.
Add the fruit mixture to a 2-quart, ungreased baking dish.
Sprinkle the oat and walnut mixture over the top.
Bake for about 30-35 minutes, or until the fruit is bubbly and the topping is browned.
Cool for at least 15 minutes before serving in individual bowls.
In-season fruit tastes amazing! This dessert is a great opportunity to put it to a taste-test!
More dessert recipes to try
Low-fat strawberry angel food trifle
Cheesecake bites
3 Desserts served on a stick
---
More From SheKnows Explorer
---
---