Not the Perfect Cook: Easy spinach Italian sausage and three cheese calzone
Open up a bottle of Chianti -- it's Italian night!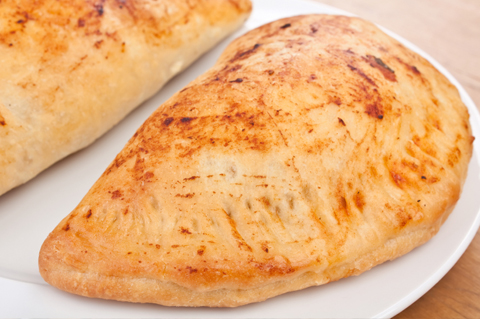 Not the Perfect Cook? Really, it is not a problem. Calzones are delicious, inexpensive and easy to make at home. In the time it takes to drive to the restaurant, park, sit down, place an order and wait for the meal to arrive, you can be in your favorite T-shirt and yoga pants and will have this one already made and on the table. Once you realize how simple it is to make this at home, you may never order calzones again.
Spinach, sausage and three cheese calzone
Ingredients:
1 pizza dough (purchased at bakery)
2 Italian sausages, crumbled and cooked (I cooked the other three in the package, whole, for hoagies)
2 cups mozzarella cheese, shredded
1 cup fresh baby spinach
1 cup ricotta cheese
4 slices provolone cheese
1 cup fresh mushrooms, sliced
Egg wash (one egg beaten with 1 teaspoon water)
Marinara sauce (heated) for dipping
Directions:
Preheat oven to 375 degrees F.
Cook Italian sausages and drain on paper towels.
Roll pizza dough out onto greased pizza pan.
On one half of the dough, layer mozzarella cheese, mushrooms, provolone slices, spinach and then dollop the ricotta mixture on top.
Fold the top half over onto the bottom and press to seal the edges.
Brush the top with the egg wash (one egg beaten with 1 teaspoon of water) and make three slits in the top for steam to escape.
Bake for 25 to 30 minutes.
Serve with your favorite marinara sauce (heated) on the side for dipping!
Try these other calzone recipes
Spinach and cheese
Quick and easy stromboli
Tuna melt calzone