Mini homemade ice cream cake recipe
One of the best parts about summer, in my opinion, is the ice cream. And the only thing that makes ice cream even better is when it's mixed with cake. As a kid, I'd spend my summers begging my mother for a Dairy Queen or Baskin Robbins ice cream cake. Made from layers of rich ice cream, moist cake and decadent cookies, how can you resist? This summer, skip the DQ and make your own mini ice cream cakes instead with this recipe! Cheaper, healthier and a heck of a lot tastier!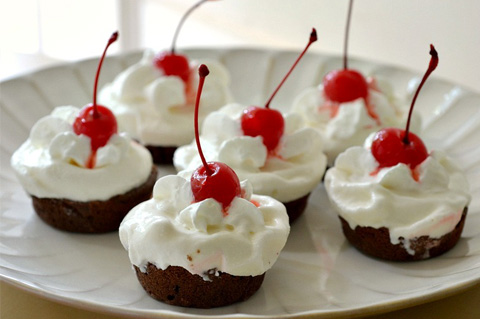 Homemade mini ice cream cakes
Yields about 12 mini cakes
Whether it's for a birthday party, barbecue or Wednesday dessert, your kids (and husband) will absolutely adore these mini ice cream cakes. These are made from scratch, including the ice cream, so they are healthier and fresher than any kind you can buy at the store. Trust me when I say this, you'll never buy another ice cream cake again!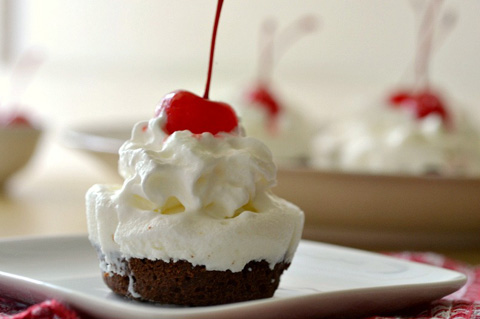 Cake recipe adapted from Martha Stewart. Ice cream recipe adapted from Cuisinart.
Ingredients: 
For the cake: 
2/3 cup softened butter
3/4 cup unsweetened cocoa powder
3/4 cup all-purpose flour
Dash of salt
1/2 teaspoon baking powder
1 cup sugar
3 large eggs
1 teaspoon pure vanilla extract
1/2 cup plain Greek yogurt
For the ice cream: 
3/4 cup (1 percent) milk
3/4 cup sugar
2 cups light cream
1 teaspoon vanilla extract
Directions: 
To make the ice cream, mix the sugar and milk together in a mixing bowl until sugar is dissolved. Add in heavy cream and vanilla. Cover and chill for 1 - 2 hours, at least.
To make the cake, preheat the oven to 350 degrees F. Grease a 12-cavity muffin pan with nonstick cooking spray and set aside. In a large bowl, mix together the flour, cocoa powder, salt and baking powder. Set aside.
In another bowl, cream together the butter and sugar until smooth. Add in eggs, one at a time, mixing well between each addition. Stir in vanilla. Add in vanilla, interchangeably with the Greek yogurt, ending with the flour. Pour mixture into the muffin tins, about 2/3 - 3/4 of the way full. Bake for 18 minutes, or until a toothpick inserted comes out dry. Let muffins cool.
Once cupcakes have cooled, use a sharp, serrated knife and cut the tops off. Place the muffin bottoms back in the cavities, re-spray with cooking spray. Freeze for 30 minutes to an hour.
While muffin bottoms freeze, remove ice cream from the mixing bowl and place in the freezer bowl of an ice cream maker. Turn it on and let stir about 20 minutes, or until mixture is thick.
Remove bottoms from the freezer and scoop 1 tablespoon of ice cream over each. Immediately re-freeze for 1 - 2 hours, or until frozen.
Remove ice cream cakes from cavities and let defrost about 5 minutes. Immediately serve and add a dollop of whipped cream and garnish with fresh fruit. Enjoy!
More ice cream recipes
Homemade Oreo cream ice cream cakes
3 Homemade ice cream recipes
Shamrock shake recipe