3 Food and wine baskets for teachers
Teachers do so much for us, the very least we can do is put together a fun gift basket to show our appreciation for the life-long impact they make on our children's lives!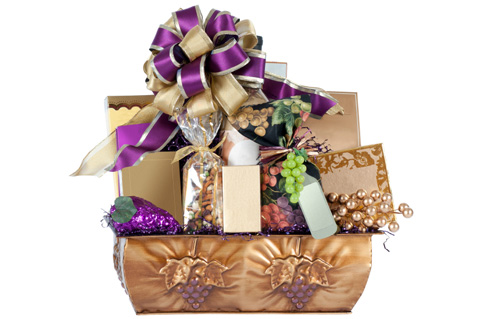 Let's face it, teachers are just as excited to see the year come to an end as the kids are. They do so much for our children that we really cannot thank them enough for all of their hard work, planning, teaching... not to mention their patience. After a long hard day of dealing with up to 25 kids (or more), they deserve a massage, a great meal and a glass of wine.
For an end of the year gift, making gift baskets that coincide with what the teacher loves and enjoys is a great way to say thank you. With just a little bit of time and thought, a gift basket can look extravagant even if you aren't very crafty. Use an old basket or buy one at a thrift store or craft store. Buy a large, clear cellophane bag and a big bow and you are ready. To fill it, think of what your child's teacher loves.
Wine basket for the wine lover
For a teacher who loves wine, buy a bottle (or two) of their favorite wine and put pretty glasses with wine glass charms inside the basket. These items can be purchased at discount department stores for under $10 for two glasses and the charms! Put a box of yummy crackers and a cheese spreader inside and you just made a beautiful basket for under $25!
Breakfast basket for the food lover
Now that summer is upon us, teachers have more time to experiment in the kitchen. Include a card that says, "The first day of summer, breakfast is on me!" Put a jar of homemade pancake mix (recipe below), the recipe card for the wet ingredients to add, a bottle of pancake syrup and some melamine plates. Maybe a whisk and dish towel could be included, as well. Add a can of apple pie filling to add to their pancakes... an apple for the teacher!
Mexican basket for the Mexican food lover
A bag of tortilla chips, a jar of salsa and a recipe for your favorite guacamole and/or salsa (salsa recipe below), a brightly colored dish towel, some margarita glasses, a couple of limes and a bottle of tequila! Throw in a CD of your favorite mariachi band and tell your child's teacher, "Gracias!"
The options are truly endless. Ask a few questions and find out what your child's teacher really enjoys and create a basket just for them. They'll appreciate the thoughtfulness more than you know. If you have no way of finding out what the teacher loves stick with generic items like specialty teas, a gift card to a restaurant and maybe some products to help them relax.
Homemade pancake mix in a jar
Ingredients:
1-1/2 cups all-purpose flour
3 teaspoons baking powder
Tiny pinch of salt (about 1/4 teaspoon)
1 (heaping) tablespoon sugar
Attach a recipe card with the following wet ingredients to add:
1 to 1-1/4 cups milk
3 tablespoons melted butter
1 teaspoon vanilla (or any flavoring that you like)
1 egg, beaten
Directions:
In a large bowl, mix dry ingredients with a fork and stir well to combine.
In a separate bowl, add milk, butter, vanilla and egg.
In the bowl with dry ingredients, make an indention with your finger, like digging a hole.
Add wet ingredients, mix until combined then stop. You do not want to over-mix your batter.
Lightly grease and heat your pancake griddle. Using a ladle or small measuring cup, add your batter to the heated griddle and cook. (You will see bubbles on the edges and that lets you know that it is time to flip).
Cook on both sides until lightly browned.
Homemade blender salsa
Ingredients:
2 cans tomatoes with chilies
1 onion, quartered
1 handful cilantro
Salt and pepper to taste
Lime juice (from 1 large lime)
Directions:
Place all ingredients in a blender and mix well.
Store salsa in a jar or an airtight container in the refrigerator.
*This salsa is extra spicy, so if you want to tone down the heat, just use one can of tomatoes with chilies and one can of plain, diced tomatoes.
Other gift basket ideas
How to make culinary gift baskets
Frugal and creative packaging tips for homemade gifts
Homemade gifts from the kitchen
---
More From SheKnows Explorer
---
---