3 Artful sandwich ideas
Tap into your creative side and make sandwiches fun again with these three artful sandwich ideas! You can roll sandwiches like sushi, serve them on a stick with sandwich kabobs and make sandwiches with apple slices instead of bread. These sandwiches still have all the nutrition of an ordinary sandwich but are way more fun!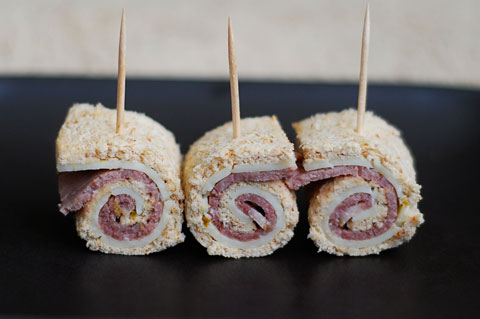 Sandwich sushi recipe
Makes 12 rolls
Ingredients: 
4 slices bread
4 slices deli meat
4 slices cheese
Your favorite sandwich condiments
Directions: 
Remove the crust from your slices of bread. Use a cutting board or the bottom of a plate to flatten the bread as much as possible.
Spread a thin layer of mayonnaise, mustard or your favorite sandwich condiment on the bread. Layer the cheese and the meat on top of the bread.
Roll the sandwich as tightly as possible and secure in place with three toothpicks. Slice each rolled slice of bread into three sushi rolls.
Sandwich kabobs recipe
Makes 4 kabobs
Ingredients:
4 slices bread
4 ounces cheese, cubed
4 slices deli meat
8 cherry tomatoes
A few lettuce leaves
4 bamboo skewers
Directions: 
Use a small cookie cutter to cut small shapes out of your slices of bread.
Slide one piece of cutout sandwich bread on to the bamboo skewer. Fold your slice of meat and lettuce leaves and slide them on the skewer. Add cheese cubes and tomatoes and continue to alternate adding ingredients until the skewer is full.
Apple sandwich recipe
Makes 4 apple sandwiches
Ingredients: 
2 small apples
1/4 cup peanut butter
1/4 cup granola
Directions:
Core the apples and slice them crosswise until you have 8 round apple slices.
Spread 1 tablespoon of peanut butter on four of the apple slices. Sprinkle 1/4 of the granola on each apple slice.
Top with the remaining 4 apple slices and serve.
More sandwich recipes to try
5 Healthy sandwich night ideas
Simple sandwich recipes
Pesto Caprese sandwich recipe