Chocolate fresh fruit pizza recipe
One of the best aspects of summer is the vast array of fresh produce in season, like juicy strawberries, luscious kiwis and plump blueberries. Although they are great on their own, in ice creams or cakes, why not get a little creative with how you serve them? Whip up this deliciously original fruit and chocolate pizza for dessert one night. Not only is this tasty and very kid-friendly, it's a great way to dupe those picky eaters into eating their fruits.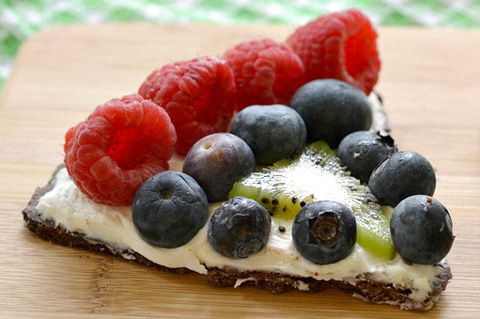 Chocolate and fruit pizza
Serves about 10
A soft, cookie crust, milk chocolate and fresh, summer fruits make this pizza the perfect dessert idea for busy weeknights, a barbecue or pool parties.
Recipe adapted from Land O' Lakes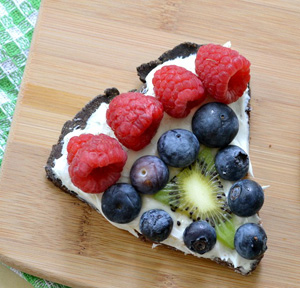 Ingredients: 
3/4 cup softened butter
1/2 cup sugar
1 egg yolk, beaten
1 teaspoon vanilla
1-1/2 cups all-purpose flour
1/4 cup unsweetened cocoa
1-1/4 cups vanilla frosting
3/4 cup blueberries
1/2 cup raspberries
1 kiwi, thinly sliced
Shaved coconut
Directions: 
Combine sugar and butter in a large mixing bowl with an electric mixer until creamy. Add in egg yolk and vanilla and beat until fully mixed. Add in flour and cocoa and mix until fully incorporated. Shape dough into a large log and wrap with plastic wrap. Place in the fridge and chill for at least 2 hours.
Once dough has chilled, preheat oven to 375 degrees F. Cut dough in half and on a lightly floured surface, roll dough out to 1/4-inch thickness. (You'll have two smaller pizza doughs.) Place on a baking sheet and bake for 9 minutes, or until browned.
Let cookie doughs chill before frosting. Then, frost each dough with frosting. Top with fruit and shaved coconut and enjoy!
More kid-friendly treat recipes
Cooking with kids: Dessert recipes
Desserts on a stick
7 Healthy summer dessert recipes