How to make ebelskivers
Ebelskivers are a traditional Danish recipe and are essentially a pancake served in the shape of a sphere. Though they look fancy, as long as you have an ebelskiver pan they are surprisingly simple to make -- and can be prepared sweet for breakfast or savory for an appetizer. Impress the husband and wow the kids with these fun-to-eat breakfast treats!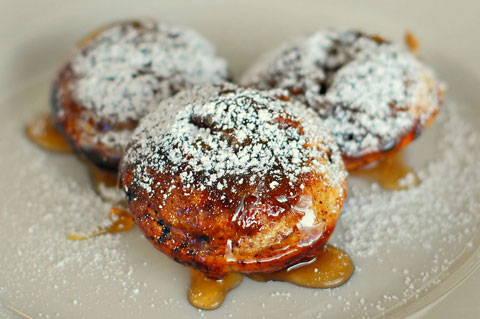 How to make ebelskivers
Ebelskivers (pronounced able-skeevers) are originally from Denmark, and are often referred to as puff pancakes. The great thing about ebelskivers is their versatility. They can be served in the place of pancakes for breakfast, made savory for an afternoon snack or tasty appetizer or made sweet for an interesting dessert. They can be filled with everything from jams and jellies to fresh fruit and even chocolate! The flavor combinations are limited only by your imagination. Use these instructions and basic ebelskiver batter recipe as a jumping off point to find your favorite flavor combination!
Choose your pan
Aside from an ebelskiver pan, you won't require any special equipment to make ebelskivers at home. You will need a special seven-welled pan to make these yourself. These pans are typically 9 to 10 inches in diameter with seven round wells that you fill with batter. Be sure to select the right pan because models have slightly different designs depending on if you have a gas or electric stove. Plug-in electric models are also available.
Prep your pan
Begin to heat your ebelskiver pan over medium-low heat. You will want it to be fully warmed before you add the batter. Use a pastry brush to brush the wells with melted butter. Once the butter begins to bubble, you are ready to add your batter.
Add batter and fillings
Add 2 tablespoons of batter to each well (an ice cream scoop works well for this). If you are adding any fillings to your ebelskivers, put the filling on top of the 2 tablespoons of batter and top with an additional 1 tablespoon of batter.
Learn how to use your microwave to make your own jam >>
Cook and flip
Cook your ebelskivers in the pan until they begin to bubble in the center and are lightly browned on the bottom, approximately 3 to 5 minutes. Use two wooden skewers to flip the ebelskiver. Slide the skewers between the edge of the pan and the cooked edge of the puff pancake, lift it and flip it over. Cook on the second side for an additional 3 to 5 minutes.
Remove and serve
Once both sides are golden brown, remove the ebelskivers from the pan. You can serve them topped with a dusting of powdered sugar, maple syrup, a simple glaze and even chocolate!
Basic ebelskiver batter recipe
Ingredients:
1 cup all-purpose flour
2 teaspoons sugar
1/2 teaspoons baking powder
1/4 teaspoon salt
2 eggs, separated
1 cup milk
2 tablespoons melted butter
1 teaspoon vanilla extract
Directions:
In a large bowl, whisk together all-purpose flour, sugar, baking powder and salt. In a separate bowl, whisk together egg yolks, then add in milk, melted butter and vanilla extract.
Add the egg yolk mixture to the flour mixture and stir until well mixed.
In a new bowl, beat the egg whites with an electric mixer on high until stiff peaks form, approximately 2-3 minutes.
Using a spatula, gently fold in half of the egg white mixture into the batter, then fold in the remainder of the egg whites.
More delicious breakfast recipes
Breakfast pizza with eggs and veggies
No-bake granola bars recipe
Cranberry oatmeal muffins