Delight in spiced grilled chicken and kiwi toss
Mention grilling out and you know you're headed into the warm weather and prime grilling season! Warm weather also means fruit. The next time you get the grill ready, consider making spiced grilled chicken and kiwi toss. It's a great combo the family will love.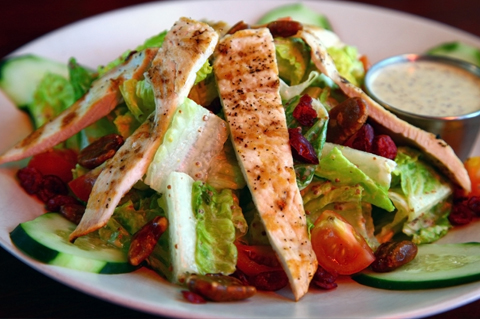 Spiced grilled chicken and kiwi toss
Serves 4
Chicken provides the protein in the dish while the kiwi and veggies provide the sweetness, color and fiber. The combo of the slightly spicy grilled chicken, the cool greens and the sweet kiwi work really well together. Add a cold pasta dish or rice on the side and your meal is complete.
Ingredients:
4 boneless, skinless chicken breast halves
1 teaspoon chili powder
1/2 teaspoon salt
2 teaspoons oil
4 cups shredded Romaine lettuce
3 kiwi, peeled and sliced
2-3 small tomatoes, diced
1 large cucumber, peeled and diced
2/3 cup shredded Monterey Jack cheese
Low-fat Ranch dressing
Directions:
Preheat your grill to medium heat.
Lightly brush both sides of the chicken with the oil, then season with the chili powder and salt.
Grill the chicken for about 15 minutes or until done. Turn once during cooking.
Meanwhile, arrange the lettuce on individual serving dishes.
When the chicken is cooked, slice it into 1-inch pieces and place over the lettuce. Toss on the kiwi, cucumber and tomatoes onto the chicken and top with the cheese and Ranch dressing.
Grilled chicken is so versatile. Be sure to try this recipe for a flavor combo that tastes amazing!
This is a great option for dinner when you're short on time.
More salad recipes to try
Kid-friendly salad recipes
Healthy spring salad recipes
Citrus spinach salad
---
More From SheKnows Explorer
---
---