Barbecue baked potato recipe
May is National Barbecue Month, which means warming up the grill for patio parties with friends. For the lighter eaters in the group, try these barbecue baked potatoes chocked full of your favorite flavors from the grill and fully loaded.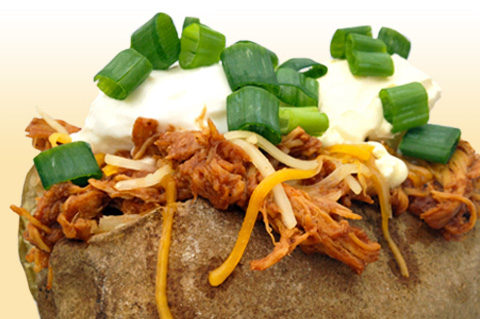 Barbecue baked potato recipe
Yields 1
If you're looking for ways to watch your waistline this summer without giving up your favorite summer flavors, it may be time to change your thinking on barbecue. During your next cookout, take a walk on the lighter side with these delicious (and lower-calorie) baked potatoes featuring your favorite barbecue temptation.
Ingredients:
1 large baking potato
Cooking spray
1/4 teaspoon salt
1/4 teaspoon garlic powder
1 cup barbecued meat (chicken, beef, ribs), removed from bone and chopped or pulled
1/4 cup (or less) barbecue sauce (optional)
1 to 2 ounces 2 percent milk cheese, shredded
1 tablespoon olive oil or yogurt butter
1 tablespoon nonfat plain yogurt
1/2 green onion, chopped
Salt and pepper to taste
Directions:
Preheat the oven to 350 degrees F.
Scrub the potato well and poke several semi-deep holes using a fork, then spritz with cooking spray.
Lay out a large sheet of foil and sprinkle salt and garlic powder all over. Rub the potato in the foil to coat with seasonings, then wrap.
Bake the potato on the rack for 1 to 1-1/2 hours (or until soft and fluffy). Remove from the oven and allow to cool.
While the potato is cooling, mix your barbecue meat with a small amount of barbecue sauce if desired.
Make a long slit in the potato and fill with meat mixture.
Top with cheese, butter, yogurt and green onion.
Salt and pepper to taste.
More cookout know-how
4 Homemade spice rubs for barbecuing
7 Summer barbecue party must-haves
Backyard barbecue decor
---
More From SheKnows Explorer
---
---