3 No mayonnaise picnic side dishes
You can't have a picnic or a barbecue without a potato or pasta salad -- it just isn't right. However, most of these salads are laden with high-calorie dressings and mayonnaise which are far from being good for you. Instead of loading up on high-fat mayonnaise with a side of salad, whip up one of these guilt-less, mayonnaise-free, skinny salads for your summer barbecue. Your waistline and skinny jeans (or bikini) will thank you.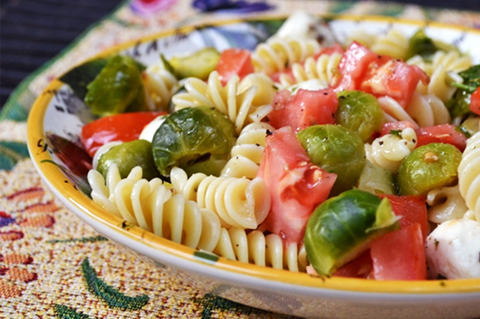 Caprese pasta salad
Serves 6
Not only are these sides healthy and low-fat, they also have fresh, seasonal produce -- so they are as farm-to-table as you can get. Put the mayonnaise back in the fridge and eat these picnic sides that are delicious and good for you!
Ingredients: 
12 ounces of rotini noodles (whole wheat or regular)
1-1/2 cups mini mozzarella balls (or fresh mozzarella, sliced chunks)
2 large plum tomatoes, chopped
2 cups steamed Brussels sprouts, sliced in half
2 tablespoons extra virgin olive oil
1 tablespoon white wine vinegar
Fresh basil
Salt and pepper to taste
For the delicious recipe and more, check out the recipe here on SheKnows >>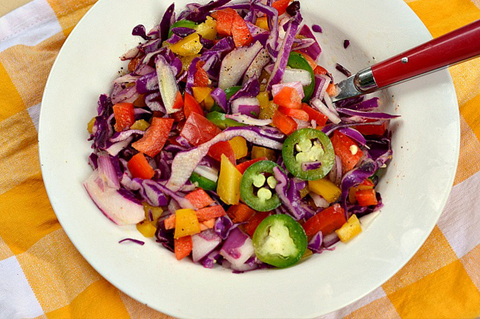 Zesty jalapeno & lemon slaw salad
Serves 4
Recipe adapted from My Recipes
Ingredients: 
2 tablespoons fresh lemon juice
1 teaspoon sugar
Salt and pepper
1-1/2 tablespoons extra virgin olive oil
1/4 cup thinly sliced red onion
1/4 cup chopped fresh cilantro
16 ounces of red cabbage slaw
1 large jalapeno, sliced thinly with seeds removed
Directions: 
Whisk together the lemon juice, sugar, salt and pepper. Gradually add olive oil, whisking constantly. Add in the chopped onion, cilantro and coleslaw and stir. Add in jalapeno and stir to coat everything. Cover and chill at least 1 hour then serve!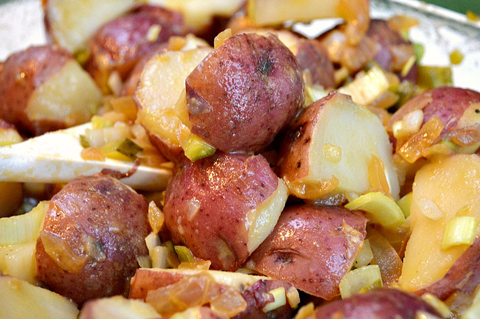 Mustard potato salad
Serves 6
Ingredients: 
For the salad: 
8 - 10 baby red potatoes
1/2 cup chopped onion
1/4 cup chopped chives
1/4 cup chopped parsley
1/3 cup chopped dill pickles
2 tablespoons beer
2 tablespoons cider vinegar
For the dressing: 
2 tablespoons olive oil
3/4 cup chopped yellow onion
3/4 cup of beer
1/4 cup of red wine vinegar
1 teaspoon sugar
Salt and pepper
2 tablespoons spicy deli mustard
For the directions and more photos, check out the recipe here on SheKnows >>
More healthy side dish recipes
Healthy recipes to kick-start your diet
Garlic, basil & Parmesan quinoa side dish recipe
8 Things to do with Napa cabbage
---
More From SheKnows Explorer
---
---