Top 10 steak grilling tips
You can't just slap the meat on the grill and forget about it. Follow these tips to make the perfect steak every time.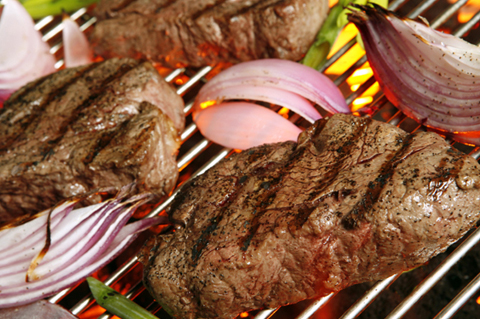 Pick the right cut of meat
Meat that is extremely lean (like filet mignon) is better pan seared than grilled. Instead, choose rib eyes, strip steaks, Porterhouse and T-bone steaks. Top sirloin will work but it takes longer to cook and can be tougher than the other cuts. Be careful with strip steaks and T-bones, which can dry out easily if overcooked.
Get friendly with your butcher
If you get to know your butcher, he'll be able to order the grade you want, let you know when the store receives orders and cut the meat just how you like it.
Season before grilling
Season your steaks 15 minutes before you place them on the grill. If you season them after they are on the grill, you'll lose most of the seasoning.
Set them out
Remove your steaks from the refrigerator and place them on the counter for 15-20 minutes before you place them on the grill. This will allow them to take the seasoning more easily and cook more quickly.
Get oiled up
Lightly oil the grate before placing steaks on the grill. The oil will keep the meat from sticking and help keep all the natural juices inside.
Like it hot
Get the fire as hot as you possibly can. In most top steakhouses, they grill their steaks at 800 to 1000 degrees F. Though you can't get your home grill that hot, you should get it as hot as you can for the best sear.
Use hardwood charcoal
Skip the gas grill and stick to charcoal. You can also smoke your meat and use wood chips, but it takes more time than throwing your steaks on the grill.
Don't be impatient
One of the biggest mistakes you can make while grilling is constantly checking to see if the food is done. You should only flip your steaks once. Follow this steak grilling chart to get an idea of roughly how long it takes to cook your steak, depending on its thickness.
Don't overcook
You'll be so disappointed if you ruin your steak by overcooking. You'll lose all those succulent juices and be left with a dried out slab of meat. Watch your steak carefully, and don't shoot for well done.
Skip the sauces
Don't cover your beautiful steak with sauces, butters and other flavorings. Eat it as is -- in all its juicy, grilled glory!
More about grilling
Grilled pizza recipes for summer
Grilled vegetables can simplify summer meals
More easy grilling recipes
---
More From SheKnows Explorer
---
---