Summer barbeque:10 Unusual things to grill
It's grilling season. At your next summer BBQ, put aside the hamburgers, hotdogs, ribs and steaks. Grill up something a little out of the ordinary for your family and friends. Here are some amazing, unusual things to grill.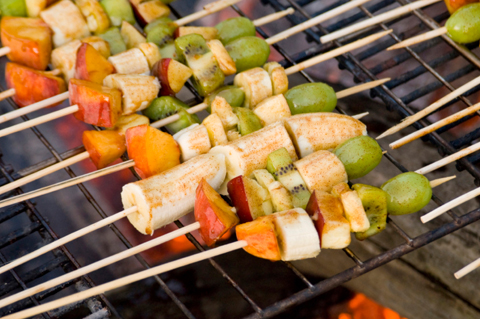 Fruit
Slice up your favorite fruits, place them on skewers and make grilled fruit kebabs. You can also grill some fruits (like thick slices of pineapple) directly on the grill alone. Almost every type of fruit is awesome grilled -- from peaches and plums to bananas and papayas.
Pizza
Grilled pizza has a similar flavor to a pizza made in a wood-burning pizza oven. Make homemade pizza dough, or get some from your local grocery store. Flatten a large ball of dough onto the grill to make the crust. When it starts to get crispy, flip it over and brush on some olive oil. When the other side gets crisp, flip it back over and add all your favorite toppings. In just a couple minutes, you'll have a spectacular pizza.
Clams
Grilled clams and oysters are perfect for a summertime BBQ. You can just throw them on the grill and when the shells begin to open, they are done and ready to eat. Your guests can season and top them with anything they like -- from mashed garlic and butter to chopped bacon and cayenne pepper.
Octopus
For an eye-catching, spectacular meal, cook a whole octopus on the grill. You will probably have to order it special from your local seafood shop. Ask for it to be cleaned and ready to cook before you buy. Tenderize the meat by beating the entire octopus with a wooden mallet for 15-20 minutes. Take the time to do this, or you'll end up with chewy octopus. Marinate it overnight in a plastic bag with oil and vinegar. Octopus (depending on the size) should take about 20 minutes to grill.
Banana splits
Though we mentioned fruit earlier, we have to give bananas a little more love. Split a banana lengthwise but don't remove it from the peel. Place it on your grill open side down for 2 minutes. Flip it over and then stuff the pocket with your favorite toppings -- chocolate chips, cinnamon, marshmallows, brown sugar, nuts or just about anything else you like. Grill for an additional 5 minutes.
Carrots
You can grill carrots, but to speed up the grilling time, you should boil them first. Peel and slice into thirds and then boil for 5 minutes. Drizzle olive oil over the carrots and then place them directly on the grill for about 8-10 minutes.
Lettuce
Yes, you can actually grill lettuce. Grab a head of romaine and split it into quarters. Brush each section with olive oil and place directly on the grill. Cook until the lettuce has nice grill marks. Serve with your favorite balsamic or bleu cheese dressing.
Peppers
Whole peppers (green, red and yellow bell peppers, as well as spicy poblano peppers) can be placed directly on the grill as well. Cook on all sides until charred. You can also stuff the peppers with cream cheese and other fillings before grilling.
Sweet potatoes
Chop your sweet potatoes into slices that aren't so small that they'll fall through the grill. Place the slices onto a lightly greased grill. Cook for 5-6 minutes, only flipping once.
Grilled cheese
Grilled cheese sandwiches are perfect for the kids at a summer BBQ. Brush one side of each piece of bread with olive oil. Assemble the sandwiches, using a combination of cheeses, tomatoes or whatever else you like in your grilled cheese. Place the sandwiches directly on the grill. Turn after 3 minutes and grill for an additional 2 minutes on the other side.
More about grilling
Grilled pizza recipes for summer
Grilled vegetables can simplify summer meals
More easy grilling recipes
---
More From SheKnows Explorer
---
---