Italian-inspired beef burritos
Does your family love Italian food but get a little bored eating pasta all the time? Here's a good solution... especially if your family likes Mexican food, too! Give these Italian-inspired burritos a try for something fun and tasty.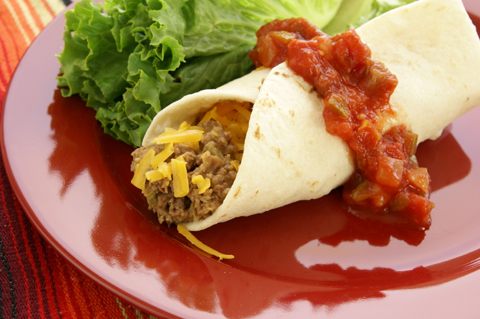 Italian-inspired beef burritos
Serves 4
If a quick dinner with the kids is a toss-up between Mexican and Italian, don't decide! Italian-inspired burritos give you a taste of both. Get the table set and mix up a green salad or steam some veggies to serve alongside the burritos for a complete meal.
Ingredients:
1/2 pound ground beef
1/2 cup prepared pasta sauce (choose your favorite flavor, without meat is best)
1/2 red bell pepper, seeded and diced
1 cloves garlic, minced
1/8 teaspoon red pepper flakes
1/2 cup shredded mozzarella cheese
4 (10-inch) whole wheat tortillas
Nonstick cooking spray
Directions:
Preheat your oven to 375 degrees F. Spray a baking sheet with the nonstick cooking spray and set aside.
Use a large skillet to cook the beef over medium heat. When it's browned, drain it and add it back to the pan. Add the pasta sauce, bell pepper, garlic, red pepper flakes and cheese. Stir until everything is mixed together.
Spoon about 4 tablespoons of the mixture onto the middle of each tortilla. Fold in each side of the tortilla, then roll the bottom up.
Place each on the baking sheet, seam side down, and bake for about 20 minutes until the burritos are just lightly browned.
When dinner calls, these Italian-inspired beef burritos are ready in a jiff!
More easy dinner recipes to try
Spicy turkey wrap
Healthy meatloaf makeover
Southwestern bean bake
---
More From SheKnows Explorer
---
---