Orange tres leches cake recipe
If you've never had a piece of moist, decadent tres leches cake, you're really missing out. Made with three kinds of milk and luscious cream, this cake nearly explodes with indulgent creamy flavor. To make this traditional Mexican dessert even better, I added orange juice and a dash of Triple Sec so the end result tastes like a creamsicle! There's no better time than now to whip up this cake!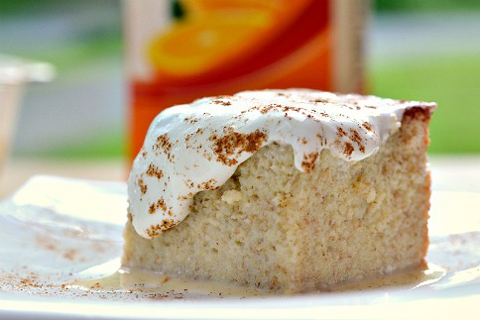 Creamsicle tres leches cake
Serves about 10
This cake will be a huge hit with kids and adults alike since it tastes just like their favorite summer ice cream or refreshing cocktail! Just beware, this cake is so good, you'll have to fight yourself from eating the entire thing out of the pan with a fork!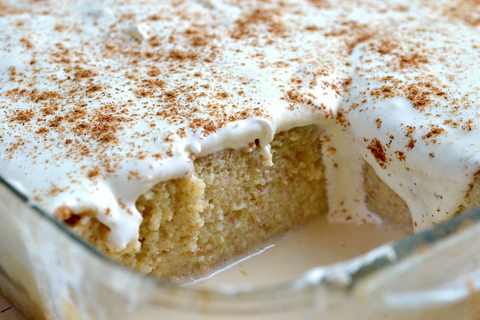 Recipe adapted from The Food Network.
Ingredients: 
1/4 cup all-purpose flour
1 cup whole wheat flour
1 teaspoon baking powder
Dash of salt
4 eggs, separated
1-1/2 cups sugar
1/2 cup (2 percent) milk
14 ounces sweetened condensed milk (or sweetened coconut milk)
12 ounces evaporated milk
2/3 cup light cream
1/3 cup orange juice
3-1/2 tablespoons Triple Sec (or other orange liqueur)
1 cup frozen whipped topping
1 teaspoon cinnamon
Directions: 
Preheat the oven to 350 degrees F. Grease an 8 x 8-inch cake pan (with 2-inch sides) with non stick cooking spray.
In a small mixing bowl, whisk together flours and baking powder. Set aside. In a large mixing bowl, beat egg whites until frothy. Gradually add sugar and beat until soft peaks form. Add egg yolks, one a time and beat after each addition. Add flour in three batches, switching out with the 2 percent milk (and ending with the flour). Pour mixture into the prepared cake pan and bake for 25 to 30 minutes, or until a toothpick inserted in the middle comes out clean.
Move cake out of the cake pan onto a platter (or hard surface) after it's cooled. Using a skewer, pierce the top of the cake all over so there are small holes.
In a small bowl, beat together the condensed milk, the evaporated milk, the light cream, the orange juice and the Triple Sec. Carefully pour mixture over the cake. Cover and chill for at least 3 hours or overnight. After cake has cooled, cover with the whipped topping and garnish with cinnamon. Enjoy!
More cold dessert recipes
Cool summer desserts
No-bake desserts for summer
3 Homemade ice cream recipes
---
More From SheKnows Explorer
---
---