Breakfast pizza with eggs and veggies
Think of a dish the whole family loves -- pizza should rank up there, right? Consider making breakfast pizza with eggs and veggies. It's a pleasant, healthy and tasty surprise to wake up to!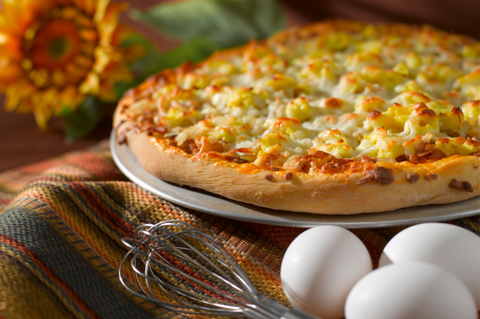 Breakfast pizza with eggs and veggies
Serves 6
This breakfast pizza is an easy and fun way to enjoy the first meal of the day. Since just about everyone loves pizza, consider this recipe for a healthy, tasty and easy-to-put-together breakfast. Ever have breakfast for dinner? This would be a great option for the last meal of the day, too!
Ingredients:
1-1/2 cups frozen diced hash brown potatoes
1-1/2 cups refrigerated egg substitute
1 (12-inch) prepared pizza crust
1 red bell pepper, seeded and cut into 1/2-inch pieces
1/3 cup diced white onion
1/3 cup skim milk
1 cup shredded mozzarella cheese
1 tablespoon olive oil
1 tablespoon fresh basil leaves, torn
Salt and pepper to taste
Nonstick cooking spray
Directions:
Preheat your oven according to the pizza crust directions.
Coat a large skillet with the nonstick cooking spray.
Over medium-high heat, add the potatoes, onions and bell pepper. Cook until the vegetables are tender.
In a small bowl, mix the egg substitute, milk, basil and salt and pepper.
Add the olive oil to the potato mixture first, then the egg mixture and cook as you constantly stir the mixture. You want the mixture to set a bit around the edges and at the bottom. Use a spatula to lift the mixture up to allow the uncooked liquids to move to the bottom to cook. Continue to cook for a few minutes until the egg has set -- then remove it from the heat.
Add a 1/2 cup of mozzarella cheese to the top of the pizza crust. Carefully slide the egg mixture on top of the crust.
Add the remaining cheese to the top of the pizza.
Bake for 10-12 minutes, or until the cheese has melted.
Pizza for breakfast can't be beat!
More breakfast recipes to try
5 Breakfast smoothies your family will love
Peanut butter and jelly pancakes
Citrus-yogurt muffins