5 Ingredient dinners
Streamlining your ingredient list doesn't mean paring down on flavor and satisfaction. These quick and easy dinner recipes not only save you effort in the kitchen, they also save money and time at the supermarket.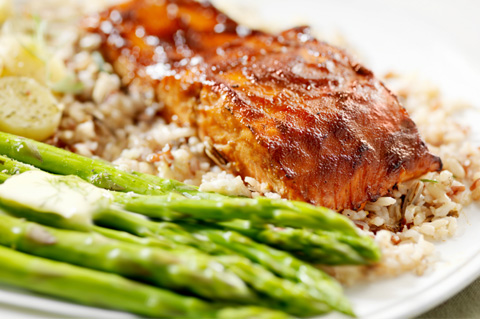 Asian plum-glazed salmon
Serves 4
Ingredients:
1/2 cup store-bought plum sauce (such as Lee Kum Kee Plum Sauce)
1 tablespoon minced fresh ginger
1 garlic clove, minced
1 tablespoon sweet chili sauce
4 (4 to 5 ounce) salmon fillets
Directions:
Preheat grill to medium heat or turn on oven broiler to high.
In a small bowl, whisk together plum sauce, ginger, garlic and chili sauce. Reserve 1/4 cup of the sauce and set aside.
Oil grill grate or a broiler pan. Brush salmon with plum sauce mixture.
If grilling, set salmon on the grill grate and close grill lid. Grill for 5 minutes then flip fillets. Brush with reserved plum sauce mixture and continue to grill for 4 minutes or until salmon flakes when pressed with the back of a fork.
If broiling, place salmon on the broiler pan and set broiler pan on the middle rack of the oven. Broil for 5 to 6 minutes then flip fillets. Brush fillets with reserved plum sauce mixture. Broil for 4 to 5 more minutes or until salmon is cooked through.
Serve immediately with your choice of salad or vegetable and rice.
Nacho burgers
Serves 4
Ingredients:
1-1/4 pounds ground beef or turkey
1/2 cup thick salsa of your choice
2/3 cup crushed tortilla chips
4 slices jalapeno Jack cheese or Monterrey Jack cheese
4 hamburger buns, split and toasted
Directions:
In a large bowl, use your hands to combine ground beef or turkey, salsa and tortilla chips. Divide mixture into 4 portions and form into patties.
Heat grill to medium-high heat and oil the grill grate.
Place burgers on the grill and close grill lid. Grill for 4 minutes. Flip and grill, covered, for 4 more minutes or until desired doneness.
Place a slice of cheese on top of each burger and serve with buns and your choice of additional toppings and condiments, if desired.
Chicken with fennel and tomatoes
Serves 4
Ingredients:
1 small fennel bulb (preferably with stalks and fronds)
1/4 cup olive oil, divided
1 small onion, halved, thinly sliced
1 pint cherry tomatoes, each tomato cut in half
4 (4 to 5 ounce) chicken breast halves, pounded to even thickness
Directions:
If you have a fennel bulb with stalks and fronds attached, cut off stalks and remove fronds. Chop the fronds and reserve for garnish. Keep stalks for another recipe or discard.
Cut out core of fennel bulb and discard core. Thinly slice fennel bulb.
Heat 2 tablespoons of oil in a large skillet over medium heat.
Add onion and fennel and cook, stirring often, until they start to soften.
Add tomatoes and cook, stirring often, until tomatoes have softened. Reduce heat to low and keep onion mixture warm.
Heat remaining oil in a second large skillet over medium heat. Add chicken and cover skillet. Cook for 4 to 5 minutes or until chicken is lightly browned on the bottom.
Flip, cover skillet, and continue to cook for 4 to 5 minutes or until chicken is cooked through.
To serve, place chicken breasts on a platter and spoon onion mixture overtop. Garnish with fennel fronds.
Olive feta spaghetti
Serves 4
Ingredients:
10 ounces spaghetti
1 cup pitted Kalamata or other black olives, halved
1/2 pound feta cheese, crumbled, plus more for garnish if desired
1/2 cup finely chopped fresh parsley, divided
6 tablespoons olive oil
Directions:
Cook pasta in a large pot of salted boiling water according to package directions to al dente.
Meanwhile, combine olives, feta and 1/3 cup parsley in a small bowl.
Right before spaghetti is done cooking, heat oil in a large skillet over medium heat.
Drain pasta, reserving 1/2 cup of the pasta water.
Add pasta and olive mixture to skillet and toss to coat, adding pasta water a little at a time to moisten, if necessary.
Serve immediately, garnished with additional feta and remaining parsley.
Ham and pineapple mini pizzas
Serves 4
Ingredients:
4 individual-sized (ready-to-bake) pizza crusts or whole pita breads
1 cup prepared pizza sauce
1 cup chopped deli ham
1 cup chopped fresh pineapple
1-1/2 cups shredded mozzarella cheese
Directions:
Preheat oven to 400 degrees F.
Place pizza crusts or pita breads on a large baking sheet.
Spread with pizza sauce, leaving a border around the edge.
Scatter with ham and pineapple. Sprinkle with cheese.
Bake for 12 to 15 minutes or until cheese is melted and bubbly.
Transfer to a large cutting board and cut into slices to serve.
More quick and easy dinner recipes
Killer quesadilla recipes
Tasty tilapia recipes
5 Fast dinner fixes with rotisserie chicken