Watermelon decorated cupcakes recipe
With temperatures warming up to the 90s and summer break just around the corner, celebrate the change in seasons by whipping up these adorable watermelon cupcakes! Decorated like the popular summer fruit, these will be a huge hit with your kids and their friends.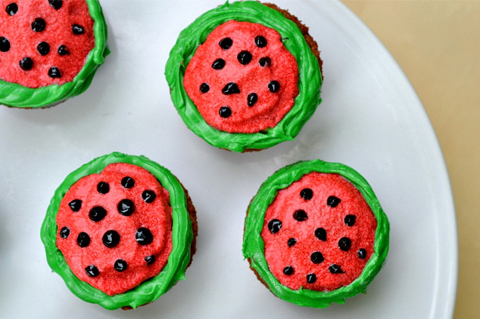 Watermelon cupcakes
Serves 12
Although these look like watermelons, they taste like rich vanilla cake and decadent buttercream. These are a great dessert idea for end of the year school parties and are perfect for Memorial Day BBQs!
Recipe adapted from The Comfort of Cooking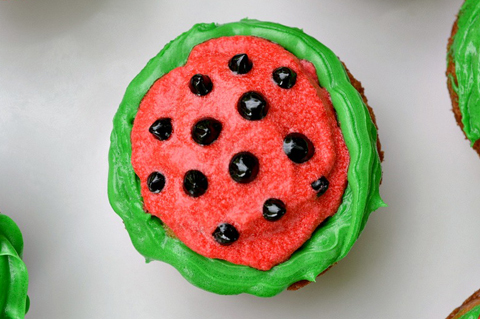 Ingredients: 
For the cupcakes: 
1-1/3 cups all-purpose flour
1/2 teaspoon baking powder
1/2 teaspoon baking soda
1/4 cup butter, room temperature
1/2 cup white sugar
1/2 cup light brown sugar
1 egg
1 cup light cream or 1 percent milk
1-1/2 teaspoons vanilla extract
Dash of salt
For the decorating: 
1 cup buttercream icing (use this recipe)
Red food coloring
Green icing in a jar (I used this)
Black icing gel
Directions: 
Preheat oven to 400 degrees F. Grease a 12-cavity muffin tin with nonstick cooking spray or line with paper liners.
In a large bowl, mix flour, baking powder, baking soda and salt together. Set aside.
In another bowl, beat butter and sugars together until creamy. Add egg and vanilla and beat until fully combined. Add a 1/2 cup of the flour mixture to the butter mixture, stir well. Add in a 1/2 cup of milk. Repeat until you've added in the rest of the milk and flour (be sure to end with the flour).
Fill each muffin cavity about 2/3 of the way full with the batter. Bake for 15 - 18 minutes, or until golden brown and a toothpick inserted comes out dry. Let cupcakes cool completely before you frost.
To make icing, mix the white buttercream with red food dye. Color until icing resembles the color of a watermelon (a very deep pink). Starting in the middle, frost each cupcake with the pink frosting, leaving a 1/4-inch of the edge dry.
Carefully pipe green icing around the very edge of the cupcake. Then using your black icing gel, carefully add a few dots onto the middle of the pink icing so it looks like watermelon seeds.
Serve immediately and enjoy!
More summer dessert recipes
7 Healthy summer desserts
Trifle recipes: Layered summer desserts
Cool summer desserts