Not the Perfect Cook: Easy stuffed poblano peppers
Whether it is from the grocery store or the produce stand, even Not the Perfect Cook can stuff a poblano pepper!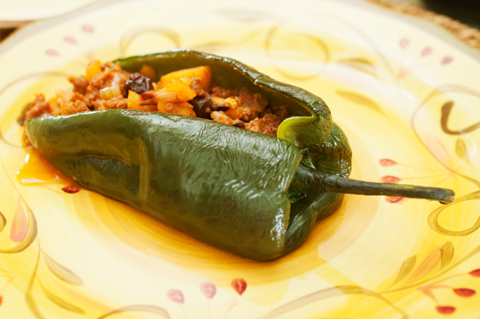 Stuffed poblano peppers
Serves 4
One summer, my parents shared a box full of poblano peppers with me, fresh from their garden. They were so delicious that instead of just putting them in a dish, I decided to make them the star of the show. I love spicy and I love cheese, so I had to combine my favorite ingredients to fill these beauties. Whether you grow them yourself, buy them from a produce stand/farmers market or the grocery store, here is a delicious stuffed-pepper recipe you can make for your summer nights!
Ingredients:
4 poblano peppers
1 hot banana pepper, diced (seeds left in for heat)
2 cups low-fat ricotta cheese
4 ounces reduced-fat cream cheese, softened
1/4 cup queso fresco
1/2 teaspoon cumin
Pinch salt (about 1/4 teaspoon)
Pinch ground black pepper (about 1/4 teaspoon)
Raspberry jelly or hot pepper jelly (about 1/2 cup for drizzling)
Directions:
Cut the poblano peppers down the center, but stopping at the very top (you want this for presentation) and remove the ribs and any seeds.
In a bowl, combine hot pepper, ricotta cheese, cream cheese, queso fresco and seasonings, stirring to combine.
Spoon the filling into the poblano pepper, about 2 tablespoons per pepper (depending on how large the peppers are).
Bake on a foil-lined cookie sheet at 350 degrees F for 30 minutes.
To serve, heat jelly in the microwave just enough to make it loose in consistency (about 30 seconds).
Next, place jelly on the center of a small plate and with the back of your spoon, make a circle of the jelly.
Place the stuffed pepper on top of the jelly. Then drizzle more heated jelly on top.
Serve and enjoy!
Try these stuffed peppers
Cream cheese stuffed peppers
Chili stuffed peppers
Santa Fe stuffed peppers