Bloomin' onion bread recipe
I set out to find the perfect bloomin' onion recipe. Instead, I found out that making my own bloomin' onion would be a whole lot of work. Since I am not in the mood for a lot of work (or a trip to Outback Steakhouse), this bloomin' onion bread recipe is the perfect solution!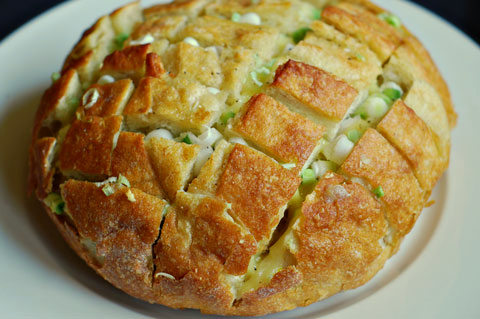 Bloomin' onion bread recipe
My family is on a budget just like so many other families these days. So, when I had a craving for a bloomin' onion from Outback Steakhouse, I wanted to find out if there was any way I could make it myself at home. As it turns out, making your own bloomin' onion requires quite a bit of cooking oil (over a gallon!) and a fair amount of effort as well. This bloomin' onion bread recipe is the perfect substitute because it is easy to make while still being incredibly delicious!
Ingredients:
1 round sourdough loaf
8 ounces Monterey Jack cheese
6 tablespoons butter
2 cloves garlic
6 green onions, finely chopped
Directions: 
Preheat the oven to 350 degrees F.
Slice the bread several times in one direction, without cutting all the way through to the bottom. Rotate the bread and slice it again making a grid pattern.
Slice the Monterey Jack cheese as thinly as possible. Place the cheese slices down into the cracks in the bread.
Melt 6 tablespoons of butter in the microwave. Mince two cloves of garlic and mix it in with the butter. Use a basting brush to pour the butter/garlic mixture into the cracks of the bread.
Finely chop six green onions, including the white part. Sprinkle the green onions over the top of the bread, making sure it gets down into the bread.
Wrap the bread in aluminum foil and bake in the oven for 20 minutes. Remove the foil and bake uncovered for an additional 10 minutes.
More appetizer recipes
3 Easy no-bake appetizer recipes
Hot appetizer party recipes
Easy appetizer: Veggie roll-ups