3 Family movie night snacks
For families who love movies it can be difficult to find ways to indulge the movie snack cravings without breaking the bank at the theater or busting the diet at home. These snacks are indulgent and healthier options -- the perfect way to bring your family together for some quality time!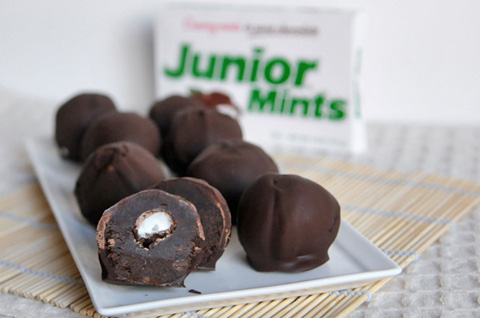 No-bake Junior Mint brownie bites
Serves 4
Ingredients:
6 tablespoon butter
1/4 cup brown sugar
1/4 cup granulated sugar
1/4 teaspoon salt
1 teaspoon vanilla extract
1/3 cup flour
1/3 cup cocoa powder
2 tablespoons half and half
16 Junior Mints candies
1/2 cup semi-sweet chocolate chips
1 teaspoon coconut oil or shortening
Directions:
In a small saucepan melt the butter and sugars together over low heat until combined.
Remove from heat and stir in the vanilla and salt until combined.
Sift the flour and cocoa powder together and then stir into the wet ingredients, being sure to get all of the lumps out.
Gently stir in the half and half. Refrigerate the mixture for 1 hour, then scoop into 8 portions.
Using a finger, make an indentation in the middle of each scoop and place two Junior Mints candies (or more if desired) into the middle.
Gently roll into a ball and place on a plate lined with parchment paper.
When all of the balls have been rolled, freeze them for 1 hour.
In a microwave safe bowl melt the chocolate chips and coconut oil in the microwave on low heat (about 2 minutes at 30 percent power) and stir until smooth.
When the balls have been frozen, gently roll them around in the melted chocolate with a fork. Place back on the plate and refreeze for about 5-10 minutes until chocolate has hardened.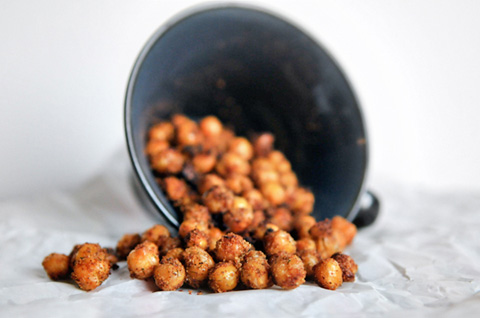 Toasted ranch chickpeas
Serves 4
Ingredients:
2 (15 ounce) cans chickpeas, drained, rinsed and dried
1/4 cup olive oil
1 tablespoon garlic powder
1 tablespoon onion powder
1 teaspoon dried mustard powder
1 teaspoon dried dill weed
2 teaspoons seasoned salt
1/2 teaspoon ground pepper
Directions:
Preheat oven to 400 degrees F (if using a convection oven preheat to 375 degrees F).
Spray a rimmed baking sheet with nonstick spray and set aside.
In a small bowl whisk together the oil, garlic powder, onion powder, mustard powder, dill weed, salt and pepper.
Stir the chickpeas into the mixture, making sure to evenly coat.
Pour chickpeas onto the prepared baking sheet. Roast at 400 degrees F for 40-50 minutes, stirring twice (if using a convection oven, roast at 375 for 30-40 minutes).
When the chickpeas are crunchy and golden brown, remove them from oven. Let them cool completely on the baking sheet before dividing them into four portions.
To store chickpeas seal them in an airtight container after they have completely cooled.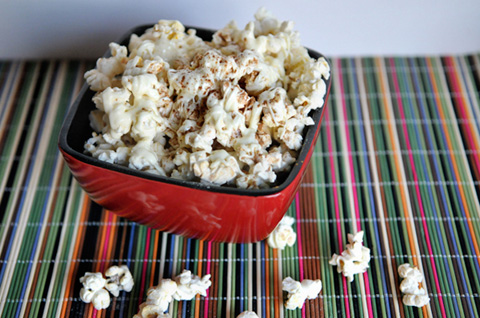 Cinnamon-sugar white chocolate popcorn
Serves 4
Ingredients:
1 (3.3 ounce) bag microwave popcorn
1/4 cup powdered sugar
1 tablespoon ground cinnamon
1/2 cup white chocolate chips
1 teaspoon coconut oil or shortening
Directions:
Pop popcorn in the microwave according to package directions.
Meanwhile, sift together the powdered sugar and cinnamon until well combined.
When the popcorn is done toss with the cinnamon and powdered sugar mixture.
In a small bowl stir together the white chocolate and coconut oil. Microwave in 30 second intervals at 30 percent power until smooth.
Drizzle melted white chocolate over the popcorn mixture, then toss to coat.
Let it sit at room temperature for 5 minutes before serving to allow the chocolate to harden slightly.
More movie night snacks
3 Caramel popcorn recipes
Party-size snack recipes
Flavored popcorn recipes