Homemade tortellini recipe
Although spaghetti, fettuccine and linguine are delicious, they just don't hold a flame to a bite size, cheese-filled tortellini. Covered in spicy marinara, vodka sauce or al-natural, this pasta never lasts long in my house. If you're like me and can't live without tortellini, try this amazing and easy recipe for a homemade batch! Trust me, you'll never buy store bought again.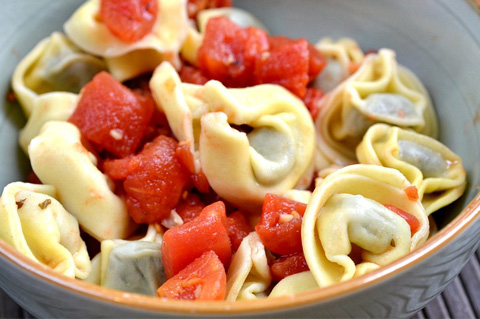 Homemade tortellini
Recipe adapted from Alton Brown
Serves about 6
In most cases, homemade always trumps store bought. This is no exception. The soft, doughy pasta paired with the creamy cheese and zesty herbs is like nothing I've ever tasted. If you're feeding a family of four, double this recipe since everyone, even your pickiest eater, will be going back for seconds!
Ingredients: 
For the filling

1/2 cup low-fat ricotta cheese
1/4 cup freshly grated Parmesan cheese
1 tablespoon Italian seasoning
1 tablespoon chopped kale
3 fresh basil leaves, chopped
1 egg, beaten
Salt and pepper
For the pasta
3 cups all-purpose flour
2 eggs
3 tablespoons water
1 teaspoon olive oil
Salt
Directions: 
To prepare the pasta: In a deep bowl, add flour and make a well in the middle. In another bowl, mix eggs, water, olive oil and salt. Pour the wet mixture slowly into the flour and mix until all of the wet is incorporated. Do not force the dough to take all of the flour.
Lightly flour a hard surface. Knead the dough until elastic, about 6 minutes. Wrap the dough in plastic wrap and refrigerate for at least an hour.
To prepare tortellini: In a bowl, mix together the cheese, seasoning, kale and salt and pepper. Mix until fully combined. Roll dough out until it's about 1/4-inch thick. Using a small, 3-inch circular cookie cutter, cut out rounds. Place about 1/4 teaspoon filling in the middle of the rounds.
To fold: Fold the dough in half over the filling and seal tightly (use egg wash to ensure it sticks). Then, fold the top half (above the filling) and then wrap the pasta around your little finger and seal the ends together. (For a picture tutorial, click here.)
Bring a pot of salted water to boil. Add tortellini and cook 2 - 3 minutes, or until they float to the surface. Serve alone or with your favorite pasta sauce!
More homemade recipes
How to make homemade soda
Homemade Oreo ice cream cake recipe
Homemade spiced rum
---
More From SheKnows Explorer
---
---