A kid-friendly Cinco de Mayo fiesta
Cinco de Mayo has always seemed like a gateway to summer. With its cool margaritas, spicy and fresh vegetable-filled salsa and the weather to celebrate al fresco -- it really lends itself to fabulous adult parties. This year you can turn it into a family affair for kids and adults alike. Just follow these recipes and ideas for an ideal Cinco de Mayo celebration.
Adult- and kid-friendly margaritas
Serves 6
Ingredients:
1 (12 ounce) can frozen limeade mix, thawed
1 (6 ounce) can frozen orange juice concentrate, thawed
18 ounces water
Optional: frozen strawberries, lime wedges, frozen mango chunks, tequila (for adults only)
Salt and sugar
Directions:
In a large pitcher combine the limeade and orange juice concentrates.
Stir in the water and fill the pitcher with ice.
To make frozen margaritas blend the mixture with ice or with frozen fruit.
To make the adult version add 1 ounce of tequila.
To rim the glasses, take a lime wedge and run it around the rim of the glass.
Turn the glass upside down and place the rim in the salt or sugar -- the lime juice will make the salt or sugar stick to the rim of the glass.
Build-your-own taco bar
Photo courtesy of Claire Gallam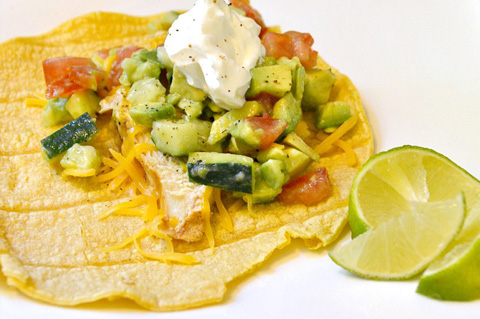 Serves 6
Ingredients:
2 pounds ground beef, turkey, chicken or cubed chicken
2 tablespoons chili powder
2 tablespoons cornstarch
2 teaspoons salt
2 teaspoons pepper
2 teaspoons cumin
2 teaspoons instant coffee powder
2 teaspoons garlic powder
1 teaspoon onion powder
1 teaspoon paprika
1 teaspoon oregano
1 teaspoon red pepper flakes
2/3 cup of water
12 tortillas (flour or corn)
1 cup Colby Jack cheese
1 cup diced tomatoes
2 cups shredded iceberg lettuce
8 ounces sour cream
2 avocados, cubed
1/4 cup diced onion
1 cup salsa
Directions:
Mix together the chili powder, cornstarch, salt, pepper, cumin, coffee powder, onion powder, paprika, oregano and pepper flakes.
Brown the ground beef in a large skillet over medium heat. Drain fat drippings.
Add in the seasoning mix and 2/3 cup of water.
Stir to combine, then lower the heat and let it simmer for 10 minutes (until most of the liquid is gone).
Set all toppings out to allow for taco building.
Cinnamon-spiced tres leches cake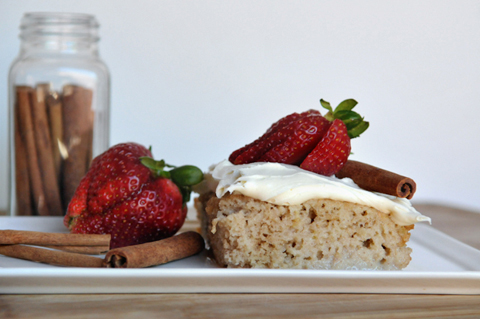 Serves 12
Ingredients:
1 cup butter, at room temperature, divided
1 cup sugar
5 whole eggs
1-1/2 cups all-purpose flour
1 teaspoon baking powder
1 teaspoon cinnamon powder
1/2 teaspoon salt
1-1/2 cups half and half
1 (12 ounce) can evaporated milk
1 (14 ounce) can sweetened condensed milk
2 cups powdered sugar, sifted
1-2 tablespoon(s) vanilla
Directions:
Preheat oven to 350 degrees F. Spray a 9 x 13 pan with nonstick spray and set aside.
In a large bowl cream together 1/2 cup of butter and 1 cup of sugar.
Add the eggs, one at a time, until completely incorporated.
Sift together the flour, baking powder, salt and cinnamon. Add to the wet ingredients and mix until just combined, scraping the edges of the bowl to make sure all ingredients are incorporated.
Pour batter into prepared pan and spread to the edges.
Bake for 20-30 minutes, or until a toothpick inserted into the middle comes out clean. Let it cool completely.
When the cake has cooled poke holes all over the top using the tines of a fork.
Whisk together the three milks and pour over the top of the cake, letting it soak in completely.
In a large bowl, cream together the other 1/2 cup of butter and the powdered sugar.
Add in the vanilla to loosen the cream mixture until it is spreadable --  gently pipe or spread over the top of the cake. Serve at room temperature.
More Mexican favorites
Make it a taco night
Fun and fruity margarita recipes
Tres leches desserts