Spicy pork empanada recipe
If you've dined at any Latin, Spanish or South American tapas restaurant, there's a very good chance you've either seen an empanada or had one. These delicious and savory bite-size pockets are filled with an assortment of meat, cheeses and vegetables -- either served fried or baked. If you love these stuffed bread pastries but don't feel like packing up the family for a dinner out, try this delicious recipe for spicy pork empanadas, that are easy to make and healthier since they are baked!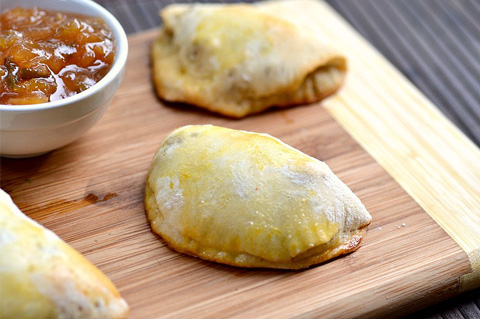 Spicy pork empanadas
Recipe adapted from My Recipes
Yields about 16 empanadas
These spicy pork empanadas are the perfect weeknight meal idea or a great appetizer for parties or potlucks. Plus, since these savory, spicy pockets are baked, you don't have to feel guilty about eating more than just one! They are small, too. You have to have at least three to get the full range of flavor, right?
Ingredients:
3/4 pound lean ground pork
1/2 jalapeno pepper, seeded and chopped
2 tablespoons chopped onions
1 tablespoon olive oil
1 teaspoon cumin
1 teaspoon crushed red pepper
3/4 teaspoon garlic powder
2 cups salsa, divided
1-1/2 tablespoons lime juice
4 tablespoons low-fat sour cream
1 can refrigerated biscuits (about 16 ounces)
1 egg, beaten
Salt and pepper
Directions: 
Heat oil in a large nonstick skillet over medium-high heat. Add onions and cook until just softened, about 2 minutes. Add in pork and brown 8 to 10 minutes or until no longer pink. Add jalapeño pepper, cumin, crushed red pepper and garlic powder and heat 2 minutes. Stir in 1/2 cup of salsa and lime juice. Remove from heat and stir in the sour cream.
Separate dough into eight biscuits and then separate each biscuit in half to make 16 rounds. Roll each round on a lightly-floured surface to make a 4-inch circle.
Spoon pork mixture evenly in center of each dough circle. Fold dough over filling, pressing edges with a fork or your fingers to seal. Cover with plastic wrap and chill for at least 1 hour.
Preheat oven to 350 degrees F. Place empanadas on lightly-greased baking sheets. Brush evenly with egg wash.
Bake 15 to 20 minutes or until golden. Serve with salsa and enjoy!
More appetizer recipes
10 Quick party appetizers
5 Spring appetizers
4 Appetizers in less than 5 minutes
---
More From SheKnows Explorer
---
---