3 Cinco de Mayo dip recipes
When Cinco De Mayo rolls around I don't look forward to anything more than tortilla chips and all the mouth-watering dips that go with them. These three dip recipes are the perfect way to kick off your Cinco De Mayo festivities!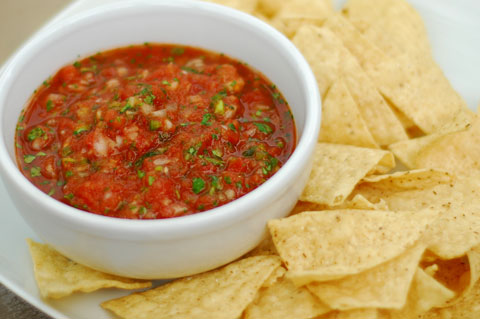 Homemade salsa recipe
You don't have to head out to a bar or your favorite restaurant to enjoy delicious chips and dip on Cinco de Mayo. Skip the crowds and the expense of dining out by making these delicious dip recipes right at home!
Ingredients: 
1 (28 ounce) can diced tomatoes
1 medium jalapeno, finely diced
1 medium onion, diced
1/2 bunch of cilantro, finely chopped
1 (4 ounce) can diced green chiles
2 cloves garlic, minced
2 teaspoons salt
2 teaspoons pepper
1 tablespoon lime juice
Directions: 
Put tomatoes, diced jalapeno, diced onion, finely chopped cilantro, green chiles and garlic into a food processor. Blend for 45-60 seconds and then transfer the ingredients to a large bowl.
Stir in salt, pepper and lime juice. Chill and serve.
Homemade fundido recipe
Ingredients:
2 tablespoons olive oil
1 medium onion, diced
1 medium jalapeno, seeded and diced
1 (10 ounce) can Rotel diced tomatoes with chiles, drained
8 ounces shredded Monterey Jack cheese
Directions: 
Heat the oil over medium-high heat in a medium skillet. Sauté the onion and jalapeno in the skillet until the onions become clear and tender.
Add the Rotel to the skillet. Slowly stir in the shredded cheese and stir constantly until it is melted. Once the cheese has completely melted, serve immediately.
Chunky avocado dip
Ingredients:
4 Roma tomatoes, seeded and diced
1/2 cup finely chopped onion
1/4 cup finely chopped cilantro
1 (14 ounce) can corn, drained
1 (14 ounce) can black beans, drained
4 avocados, peeled and diced
Directions: 
Combine tomatoes, onion, cilantro, corn and black beans in a large bowl. Gently toss in the avocado and serve.
More delicious dip recipes
Best party dip recipes
Buffalo chicken dip recipe
Avocado pear dip
---
More From SheKnows Explorer
---
---