Cinco de Mayo Mexican egg casserole recipe
You don't have to wait for cocktail hour to start celebrating Cindo de Mayo. Start your fiesta early and your day off right with a Mexican egg casserole!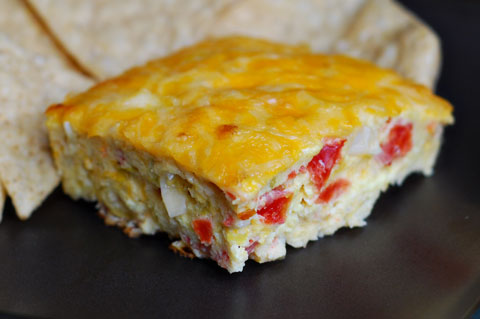 Mexican egg casserole
Serves 9

Don't want to wait until margarita time to kick off your Cinco de Mayo celebration? Start your fiesta first thing in the morning by making this delicious Mexican egg casserole. This Cinco de Mayo, try serving it with some salsa, a few tortilla chips and your favorite coffee -- and you will have the perfect way to start your day!
Ingredients: 
6 large eggs
1 (8 ounce) cup sour cream
1 (4 ounce) can diced green chiles, drained
1 (10 ounce) can Rotel diced tomatoes with green chiles, drained
2 cups shredded cheese
6 green onions, thinly sliced
1 teaspoon hot sauce
1 teaspoon pepper
1/2 teaspoon salt
1/4 cup all-purpose flour
1/2 teaspoon baking powder
Directions: 
Preheat the oven to 350 degrees F.
In a large mixing bowl, beat eggs. Once the eggs are beaten, add in the sour cream, green chiles and Rotel and mix until well combined.
Slowly mix in 1-1/2 cups of shredded cheese, green onions, hot sauce, salt and pepper. Then add in the all-purpose flour and baking powder.
Sprinkle with the remaining 1/2 cup of shredded cheese.
Once all ingredients are incorporated, pour the mixture into an 8 x 8-inch baking dish. Bake the casserole for 45 minutes to 1 hour until a toothpick comes out clean when inserted.
Allow to cool for 5 minutes before serving.
More Cinco de Mayo recipes
Spicy Cinco de Mayo cocktails
Healthy Cinco de Mayo recipes
Delicious Cinco de Mayo feast