3 Cookie bar recipes
Tired of bringing the same cupcakes and cookies to every bake sale and birthday party? Try something new next time by making monster bars, s'mores bars or Oreo cookie bars instead!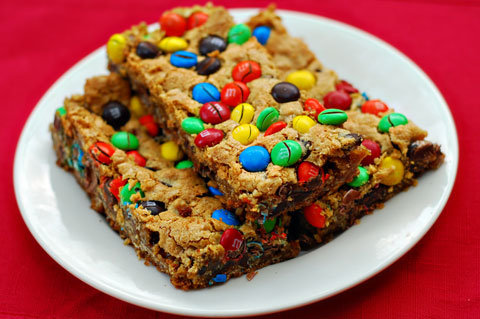 Monster bar recipe
Makes 18 bars
I love making monster bars. Somehow the fact that they are made using peanut butter and oatmeal rather than flour makes me at least feel like they are a healthy cookie alternative!
Ingredients:
1/2 cup butter, softened
1 cup granular sugar
1 cup brown sugar
1 teaspoon vanilla extract
1-1/4 cups peanut butter
3 large eggs
1 teaspoon baking soda
1 teaspoon baking powder
1/2 teaspoon salt
4-1/2 cups oatmeal
2 cups chocolate chips
1 cup M&Ms
Directions: 
Preheat the oven to 350 degrees F.
Using a mixer, cream together the butter, sugars and vanilla extract.
Mix in peanut butter and eggs until creamy.
Slowly add in baking soda, baking powder, salt and oatmeal until the batter is well mixed.
Using a wooden spoon, stir in 2 cups of chocolate chips.
Pour the mixture into a 9 x 13-inch baking dish. Sprinkle the M&Ms over the top of the batter, pressing them in slightly. Bake at 350 degrees F for 25-30 minutes.
Rule the school with these bake sale tips. >>
S'mores bar recipe
Makes 16 bars
You don't have to be sitting around the campfire to enjoy a s'more. Make s'mores right in your oven and you can enjoy them anytime!
Ingredients: 
1/2 cup butter, softened
1/3 cup brown sugar
1/3 cup granular sugar
1 large egg
1 teaspoon vanilla extract
8 graham crackers
1 cup all-purpose flour
1 teaspoon baking powder
1/2 teaspoon salt
2 cups marshmallow creme
4 Hershey's milk chocolate bars
Directions: 
Preheat the oven to 350 degrees F.
Cream together the butter and sugars in a large mixing bowl. Add in the egg and the vanilla extract.

Crush the graham crackers in a food processor to make graham cracker crumbs. In a large bowl, combine graham cracker crumbs, flour, baking powder and salt.
Slowly mix the graham cracker mixture in with the butter mixture.
Grease an 8 x 8-inch baking dish and press half of the dough into an even layer in the bottom of the pan.
Break apart the chocolate bars into sections and place the pieces in a single layer on top of the dough.
Top the chocolate with an even layer of the marshmallow creme.
Roll the remaining dough into 1-inch balls. Flatten the dough balls and place them on top of the marshmallow layer.
Bake in the oven at 350 degrees F for 30-35 minutes until the top is lightly browned. Cut into squares and serve.
Oreo cookie bar recipe
Makes 18 bars
These Oreo cookie bars are so simple to make. It's like a rice krispie treat made out of Oreos and it can be whipped up in less than 15 minutes!
Ingredients: 
1 (16 ounce) package of Oreo cookies
1 bag of jet-puffed marshmallows
1/4 cup of butter
Directions: 
Using a food processor, crush all of the Oreos into small pieces. (As an alternative, you can involve the kids and have them crush the cookies using their hands!)
Place the marshmallows and butter in a large pot and melt them over medium heat, stirring constantly until all marshmallows are melted.
Add in the cookie crumbs and stir until the cookie crumbs are completely mixed in.
Press the mixture into a 9 x 13-inch pan and chill for 15 minutes. Slice into small squares and serve.
More treat recipes to try
Low-fat dessert: Strawberry angel food trifle
Ice cream cone cupcakes recipe
Nutella recipes
---
More From SheKnows Explorer
---
---